Halgerda brunneomaculata
Great Barrier Reef, Australia
---
Halgerda brunneomaculata Carlson & Hoff, 1993

As the latin/greek species named clearly states, this small Halgerda has distinctive brown spots. The body overall is transparent yellow and has a thin white line along the edge of the foot and mantle. The rhinophores and large spreading gills have a wide brown stripe posteriorly (not visible in this photo).
Debelius (1996) indicates that this small (up to 2.5 cm) Halgerda is a shallow water species found in depths less than 21m. Additionally, he reports the geographic range of this species to be the Coral Sea area: East Australia, Guam and the Marianas. This specimen photographed by Dr. Saul Gonor was shot on the Great Barrier Reef, Australia.
Recently, "Branchs of the Week" have featured the newly described species, Halgerda albocristata by Gosliner & Fahey, and a redescription of Halgerda elegans. Several new species are in press, by the same authors, as I speak, and others are being prepared for publication by Terry Gosliner, Shireen Fahey, and Clay Carlson/ Patty Jo Hoff ( the original describers of H. brunneomaculata discussed above).
---

Text courtesy of Dave Behrens
Photos courtesy of Dr. Saul Gonor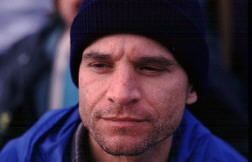 Dr. Saul Gonor is a 43 year old urologist from Saskatoon, Canada who has been diving extensively since 1980. He saw his first nudibranch in 1986, and has been fascinated by and photographing them ever since. He is also enthusiastic about photographing rays and cetaceans. When he is not diving, he listens to a lot of music.

The above pic was taken with a Nikon F4 in an Aquatica 4 housing, using a Nikon SB103 and an Ikelite MV strobe, primarily on TTL. I usually use Kodachrome 64 or Velvia, but occasional shots may have been taken with Sensia 100.

Send Saul mail at saulgonor@sk.sympatico.ca
---
Taxonomic information courtesy of:



---
© The Slug Site, Michael D. Miller 1998 All Rights Reserved.






---