Favorinus japonicus
Pupukea, O`ahu. 30 ft.

---
Favorinus japonicus Baba, 1949
Family Facelinidae

These well-camouflaged eolids prey exclusively on the eggs of other sea slugs. In Hawai`i they are most easily observed on the large red or pink coiled ribbons of the Spanish Dancer, Hexabranchus sanguineus. Gently spread the rosette of eggs to find them. Like worms in the heart of a rose, they devour the flower from the inside. Often their white egg coils can be seen as well——eggs on eggs. The animals are pink, whitish or greenish, depending on the color of the eggs they consume. Nudibranch eggs are often poisonous and these predators probably incorporate the toxins for their own defense. Unlike some other eolid nudibranchs, they have no sting. They attain about 1/2 in. (1.25 cm) and are known from Japan, Guam and Hawai'i. Thanks to Linda Bail of Bubbles Below Scuba Charters for showing me how to find these wonderful slugs and to Dan Dickey my summer dive buddy for spotting this one off Oahu's north shore and holding down the egg coil for the photo.

Webmaster's Note:
We have also seen Favorinus japonicus in the Philippines, in addition to Favorinus tsuruganus.
---
Photo and Text courtesy of John Hoover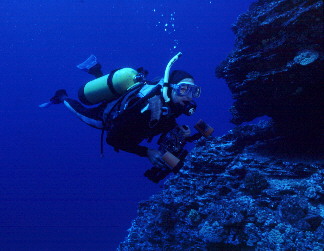 Author/photographer John P. Hoover lives in Honolulu. He has published two books on marine life of the Hawaiian Islands. His third, a field guide to the marine invertebrates of the Hawaii, will be available approximately February 1999. With over 600 photographs, it will cover 500 species, including 66 of Hawaii's most colorful and interesting opisthobranchs."

Hawaii's Fishes, a Guide for Snorkelers, Divers and Aquarists Mutual Publishing, 1993

Hawaii's Underwater Paradise, Mutual Publishing, 1997

Hawaii's Sea Creatures, a guide to Hawaii's Marine Invertebrates. Mutual Publishing, 1999.

John's books are available through Sea Challengers !

Send John E-Mail at hoover@hml.org

---
© The Slug Site, Michael D. Miller 1998. All Rights Reserved.






---