Tambja morosa
---
Tambja morosa (Bergh, 1877)
Family Polyceridae

These wrinkly skinned, dark olive-green nudibranchs appear almost black underwater. A bright blue margin, a blue head band, and about five round blue spots down the back (sometimes fused) add color and contrast. A circle of large branched gills sprouts at the center of the back. In Hawai`i these slugs sometimes occur in clear water but are more common in silty harbors. They probably feed on bryozoans or tunicates. The species name, meaning "gloomy," was likely chosen because of the animal's dark color. They grow to about 3 in. (7.5 cm) and have an Indo-Pacific distribution. Photo: Magic Island boat channel, Ala Moana Beach Park, O`ahu. 15 ft.
---
Photo and Text courtesy of John Hoover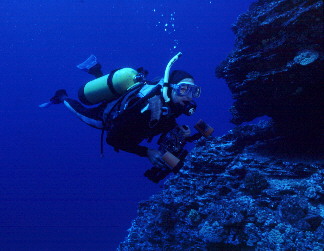 Author/photographer John P. Hoover lives in Honolulu. He has published two books on marine life of the Hawaiian Islands and is working on his third, a field guide to the marine invertebrates of Hawaii covering over 500 species.

Hawaii's Fishes, a Guide for Snorkelers, Divers and Aquarists Mutual Publishing, 1993

Hawaii's Underwater Paradise, Mutual Publishing, 1997

Send John E-Mail at hoover@hml.org

---
© The Slug Site, Michael D. Miller 1998. All Rights Reserved.






---