---
Dermatobranchus gonatophora (Hasselt, 1824)

Dermatobranchus gonatophora belongs to the nudibranch group referred to as Arminacea. This unnatural group has been referred to as many things by cynical taxonomists, I just call it the sea slugs lovers catch all for those species, which for the absence of certain significant taxonomic features get dubbed - "not any of the above." The only character that really united this desperate group is the presence of an oral veil. This group is in real need of a serious make over.

The Indo-Pacific seems to be the hot spot for arminid diversity, providing the home for many species. Two similar genera, within which this species resides are Armina and Dermatobranchus. Both are characterized by a series of longitudinal ridges on the dorsal surface.

Debelius in Nudibranchs and Sea Snails(1996) presents a dramatic collection of examples of these genera, including photos of two color phases of D. gonatophora(Page 295). Dave Mulliner's photo shown here (which also appeared in Coral Reef Animal of the Indo-Pacific, species # 617) is the more typical color of this species, which does display some variation.

Of particular note in Dave's photograph, is that this specimen is seen attacking one of its prey species, the soft coral, Eleutherobia grayi (see Coral Reef Animal of the Indo-Pacific, species # 73). Dermatobranchs also feed on penatulaceans (sea pens), usually on sand or coral rubble bottoms.

The large species, measuring up to 12 cm in length, has a wide distribution, which includes Okinawa (location of this photo), Indonesia, Thailand and recently, the Red Sea.

Webmaster's Note:

The Slug Site would like to acknowledge Dr. Bob Bolland in Okinawa and the The Okinawa Slug Site for making this weeks BOW possible. For those who haven't visited Bob's site, you are indeed missing out on one of the net's premier slug sites!! Dermatobranchus gonatophora was run previously on the Okinawa Slug Site and is well worth revisiting!!

---
Photograph courtesy of Dave Mulliner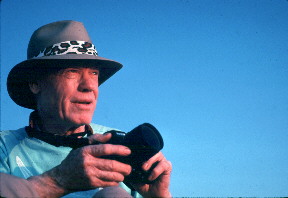 David Mulliner is a true legend. He was Sea Hunt before Lloyd Bridges. Seriously, he has been diving and studying marine life in San Diego and Baja California for decades. Founding president of the Western Society of Malacologists (WSM) and reelected president twenty five years later, Dave is well known in the shell world. He has also pioneered close-up microphotography, and is the staff photographer for the San Diego Shell Club's publication, The Festivus. His charming smile and welcoming embrace have encouraged many neophytes into studying nudibranchs and other molluscs. Dave has generously supplied specimens to many scientists. He continues to share his expertise, knowledge and photographs with all who share his love of the sea and its mollusc community.
---
Taxonomic information courtesy of:
---
© The Slug Site, Michael D. Miller 1998 All Rights Reserved.






---