Chromodoris vibrata
---
Chromodoris vibrata (Pease, 1860)

It is true that many chromodorid nudibranchs vibrate their gills, probably to increase oxygenation. However, this little animal is unique in having been named for their behavioral trait!
Living animals can range up to 35 mm in total length. The posterior portion of the foot protrudes out from underneath the overhanging mantle margin. The 8-10 wiggling gills are simply pinnate, whitish with purple tips. The rhinophores are white, with purple on the distal portion.
The dorsum is yellow, with large white pustules; the narrow purple mantle band is periodically thickened as centrad pointing flanges or wide areas.
Originally described from the Hawaiian Islands (where it is fairly common in intertidal and shallow subtidal regions to 15 m around Oahu and Hawaii), it is also known from Enewetak Atoll, Marshall Islands.
---
Photos and text by Dr. Hans Bertsch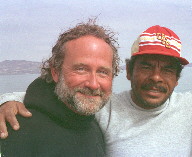 Dr. Hans Bertsch

Assoc. Prof.
Dept. of Math and Natural Sciences
National University
192 Imperial Beach Blvd. #A
Imperial Beach, CA 91932
FAX (619) 423-9118
Send Hans E-Mail at hansmarvida@cox.net

---
© The Slug Site, Michael D. Miller 1998. All Rights Reserved.






---