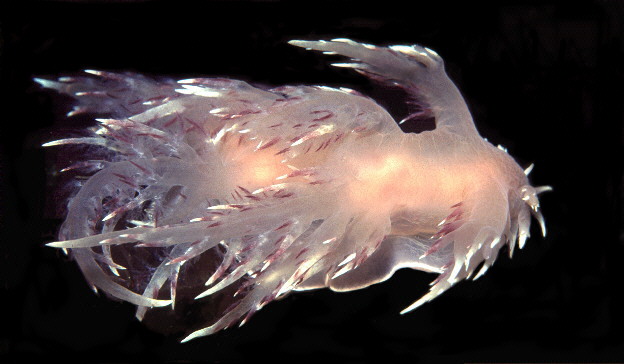 Dendronotus iris
---
Dendronotus iris was described by Cooper in 1863. Color is highly variable, ranging from white through grey, orange, and red. The rhinophore shaft has a vertical row of from three to six small branched processes on its posterior side. The large, lateral, rhinophoral process arises from near the base. A white line occurs along the edge of the foot. Frontal veil has four paired processes. Gill tufs may be tipped with orange, yellow, or purple. Dendronotus iris feeds on the burrowing anenmone Pachycerianthus fimbriatus.
---
As a new feature to the Slug Site, a different nudibranch will be selected on a weekly basis for enchanced display.
---
---
For those of you interested in the photographic background information of the images, the following may be of interest!
---
Camera System: Tussey T-300 underwater housing with FM-2/Nikon 60mm lens.

Strobe: Ikelite Ai

Film: Fuji Velvia

Site: Nanaimo, British Columbia, Canada

Photo Editing: PhotoStyler 2.0 on 486 DX-2 33 mhz/ 64 megs RAM
---
© The Slug Site, Michael D. Miller 1998 All Rights Reserved.



---