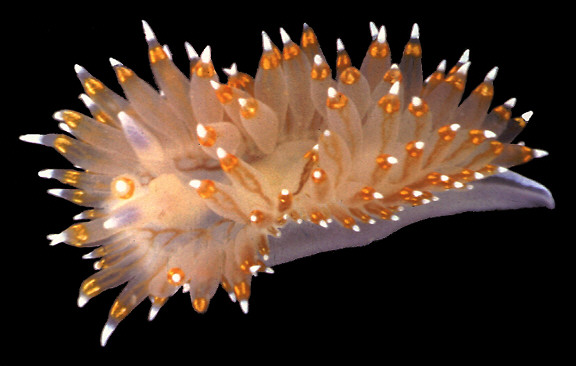 Janolus rebeccae
---
Janolus rebeccae Schroedl, 1996

Janolus rebeccae was first reported from the shallow subtidal of northern Chile (Schroedl, 1996a; as "Janolus sp. 1"), where it feeds on arborescent colonies of the bryozoan Bugula flabellata (Thompson). Subsequently, Janolus rebeccae was described as a new species (Schroedl, 1996b), acknowledging that it was investigated because of the instinctive feeling of the author's wife that this beautiful species may be new. The translucent body of J. rebeccae reaches 43 mm in length. There are numerous cerata which have a golden brownish ring below the white tip, giving this species an aeolidacean-like appearance. However, the presence of an undulating crest called a caruncle between the perfoliate rhinophores distinguishes this and all other Janolus species (Arminacea) from aeolidacean nudibranchs. Externally, J. rebeccae comes close to the Californian species Janolus barbarensis (Cooper, 1863), but differs internally due to some radular and reproductive features and externally it has a transparent caruncle, white tips to the cerata and rhinophores and a white line on the tail.
References:
SCHROEDL, M. 1996a. Nudibranchia y Sacoglossa de Chile: Morfologia externa y distribucion. Gayana Zoologia 60(1):17-62 (Spanish with an English abstract).
SCHROEDL, M. 1996b. Janolus rebeccae, a new species of arminacean nudibranchs from northern Chile. Spixiana 19(3):293-300.
---

Text and photo courtesy of:


Michael Schroedl
Zoologisches Institut der Ludwig Maximilians-Universitat Munchen
Abt. Prof. Bohn, Karlstr. 23, 80333 Munchen, Germany
phone (49-89) 5902-312, fax (49-89) 5902-405
Send Michael e-mail at schroedl@zi.biologie.uni-muenchen.de

---
For those of you interested in the photographic background information of the images, the following may be of interest!


Site: Bahia Inglesa, northern Chile
. Camera System: Minolta X700
Strobe: Natural light, bucket photo

---
© The Slug Site, Michael D. Miller 1995, 1996, 1997,1998, 1999. All Rights Reserved.






---