---
Nembrotha chamberlaini Gosliner and Behrens 1997
The second of four new species described by Gosliner & Behrens, 1997, Cal Acad. Proc. Vol. 49. No. 9, this beast is named in recognition of Dr. Marc Chamberlain of San Diego, California, a good friend, fantastic underwater photographer and a generous contributor to opisthobranch research.
This wild colored species only adds to the spectacular color of the Philippine reef seascape, with its vivid red and black marking against a white background. Splashes of yellow border these two color features while the edge of the foot, foot corners, cephalic ridge and genital aperture are bluish purple.
This large, up to 100 mm long, phanerobranch dorid is another excellent example of aposematic, or warning coloration. Common in shallow depths, throughout the Philippine Islands and Okinawa, it feeds on the tunicates, Rhopalaea sp., Clavelina moluccensis and Oxycorynia fascicularis.
The authors of this flamboyant species deny any relationship between the choice of the name chamberlaini and either the exceptionally common copulatory behavior observed during recent visits to the Philippines or the presence of particularly machismo penial armature .
---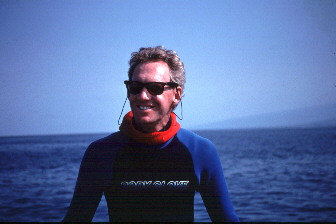 Marc Chamberlain is by vocation a neurologist and by avocation a wildlife photographer. He enjoys traveling during which he is always toting cameras. His diving holidays have been to the Carribbean, up and down the west coast of the Americas and throughout the Indo-Pacific. His photographs have appeared in numerous magazines including: National Geographic; International and National Wildlife; Ocean Realm; Outside; and various Cousteau Society publications. Marc has collaborated on several books and presently is working on a book of Indo-Pacific nudibranchs. Marc was also San Diego Underwater Photographic Society Photographer of the Year six times during the time he lived in the San Diego County area. Marc will have participated in thirteen consecutive San Diego Underwater Society Film Festivals as a presenter this July, which has to be a club record!

Send Marc mail at marc.c.chamberlain@kp.org
---
Taxonomic information courtesy of:
---
---
© The Slug Site, Michael D. Miller 1995,1996, 1997, 1998, 1999. All Rights Reserved.




---