Glossodoris rufomarginata
---
Glossodoris rufomarginata (Bergh, 1890)

This pretty little chromodorid has suffered various taxonomic indignities and nomenclatural changes: genera include Chromodoris and my short-lived Chromolaichma; species include G. marginata and Chromodoris youngbleuthi.
Total body length of living animals is around 20-40mm. On Oahu, Scott Johnson and I consistently found it subtidally on a black sponge, along with its egg mass.
The animal is whitish, with orange-red flecking over most of the dorusm; the white band around the dorsum is margined with a reddish band (hence its original specific name). Rhinophores and gills have the same orange-red coloration pattern.
Widely distributed throughout the Indo-Pacific region, it has been reported from Tanzania, Africs; Cockburn Sound, West Australia; Heron Island, Great Barrier Reef, Queensland, Australia; Amboina, Moluccas Islands; Fiji; and Hawaii.
On a quite personal note, this species figured greatly in my reputation among the members of one of the Earthwatch expeditions that Scott Johnson and I led. Unbeknowst to me, he had dyed one animal methylene blue. One of the expedition volunteers carried it out on a research dive, and then upon returning to shore, said, "Gee, Hans, look at this bazarre nudibranch I found. It must be a new species!" I am proud to say, they did not fool me, as I mumbled something to the effect, "It sure looks a lot like youngbleuthi!!" I was lucky.
---

Photo and Text by: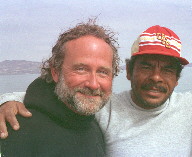 Dr. Hans Bertsch

Assoc. Prof.
Dept. of Math and Natural Sciences
National University
192 Imperial Beach Blvd. #A
Imperial Beach, CA 91932
FAX (619) 423-9118
Send Hans E-Mail at hansmarvida@cox.net

---
© The Slug Site, Michael D. Miller 1999. All Rights Reserved.