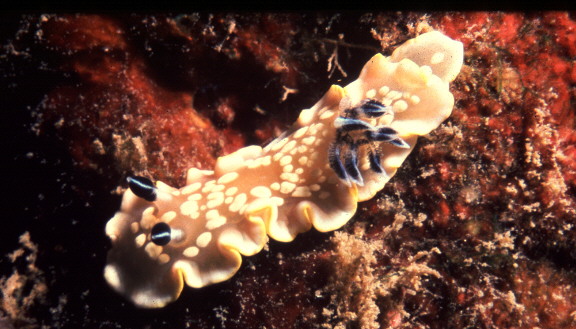 Glossodoris tomsmithi
---
Glossodoris tomsmithi Bertsch & Gosliner, 1989
White on white, with tints of dark steel blue on the rhinophores and gills summarizes the coloration of this small, but elegant mid- and west-Pacific nudibranch.
The dorsum is a dirty cream white, spotted with 1-2 mm circular white dots. There is a white marginal band around the body. The rhinophores are white basally, while the distal two- thirds are a dark brown or steel blue color with a prominent vertical white line on the anterior and posterior sides. The gill stalks are white basally, fading to a dark steel along the distal portions of the pinnae.
Living animals range in length from 10-20 mm (26 specimens averaged 14 mm). This species has been reported from the Hawaiian Islands (Oahu and Hawai'i), and from the Marshall Islands (Kwajelein and Enewetak). In the Hawaiian Island chain it has been found feeding on a gray black sponge.
This species was named for San Diego / Hawaii / Montana / Arizona peripatetic resident, Tom Smith (who is also a good diving buddy and finder of nudibranchs!).
---

The above information and image courtesy of:
---
For those of you interested in the photographic background information of the images, the following may be of interest!
---
Camera System: Tussey T-300 underwater housing with FM-2/Nikon 60mm lens.

Strobe: Ikelite Ai

Film: Fuji Velvia

Site: Three Tables, North Shore, Ohau, Hawaii

Photo Editing: PhotoStyler 2.0 on 486 DX-2 33 mhz/ 64 megs RAM
---
---
© The Slug Site, Michael D. Miller 1999. All Rights Reserved.




---