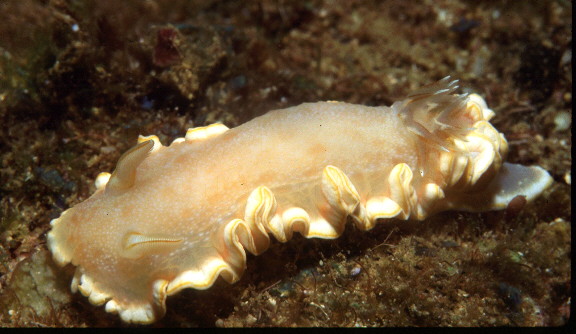 Glossodoris poliahu
---
Glossodoris poliahu Bertsch & Gosliner, 1989

This Hawaiian nudibranch was popularly called "snowflake" in my and Scott Johnson's book, Hawaiian Nudibranchs, because of the snow-like sprinkling of white dots over its dorsal surface. Its scientific name (a noun in apposition) is the Hawaiian snow goddess! She engages in a continual struggle with the volcano goddess Pele. While Pele spews red hot lava over the land, Poliahu spreads a cooling blanket of snow over the higher elevations.
Glossodoris poliahu ranges in size from 25 to 35 mm in total length. The mantle overhangs the sides of the body, and is usually convoluted. The gills and rhinophores are a dusky cream color with light rust-brown vertical streaks centrally. The dorsum is colored light brown, with white dots sprinkled densely throughout the entire brownish region. The margin is surrounded by a white band, which is in turn surrounded peripherally with a thin light golden brown line.
Specimens have been collected on the islands of Oahu and Hawaii.
Certainly more information would be appreciated about this distinctive species.
---

Text courtesy of:
---
For those of you interested in the photographic background information of the images, the following may be of interest!
---
Camera System: Tussey T-300 underwater housing with FM-2/Nikon 60mm lens.

Strobe: Ikelite Ai

Film: Fuji Velvia

Site: Three Tables, North Shore, Ohau, Hawaii

Photo Editing: PhotoStyler 2.0 on 486 DX-2 33 mhz/ 64 megs RAM
---
---
© The Slug Site, Michael D. Miller 1999. All Rights Reserved.




---