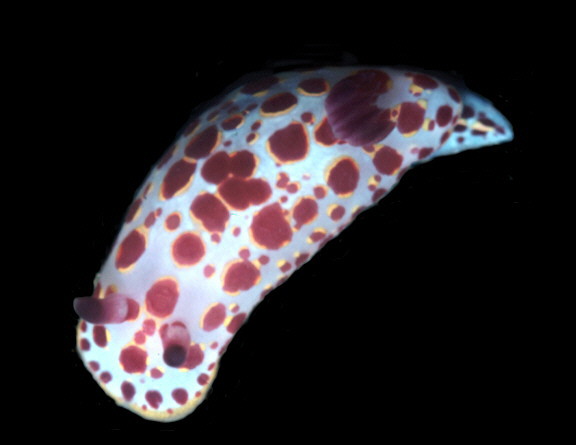 Chromodoris galexorum
---
Chromodoris galexorum Bertsch, 1978

This is an incredibly beautiful nudibranch; it has a simple body coloration with flamboyant splotches! Its coloration reminds me of images of explosive stellar supernovae. The animal can be described as color expanding upon color. Specifically, brilliant scarlet splotches are surrounded by a chrome-yellow ring. Just like the iridescent luminous clouds of the Crab Nebula. A symphony of galaxies misspelled!
The gills and rhinophores are colored a deep blood red, and around the margin of the body is a thin, chrome-yellow band. The animal ranges in length from about 20-40 mm (three-quarters to an inch and a half).
Nothing is known of its biology, but it most likely is a sponge feeder.
The common name of this slug, "The Galactic Sea Slug, " is based upon a multi-lingual triple-entendre. The scientific name is a combination of the names of two colleagues: Gale Sphon and Alex Kerstitch. Gale Sphon was a malacologist who worked at the Santa Barbara and Los Angeles County Museums of Natural History for many years. Sadly, he died recently (12 May 1995). I must acknowledge a great dept of gratitude to him, for his friendship, professional encouragement, and support throughout the years. This is not the only species of slug named in his honor: Chromodoris sphoni and Sclerodoris tanya (named for his favorite pet cat) will always come to mind. Alex kerstitch is a world-renowned underwater photographer and artist. He has written several identification volumes on the fauna of the Gulf of California. He lives in Tucson, and tries to spend as much time as possible south of the border (sounds like me)! And the final pun of this scientific name is the galaxy appearance of the animal's coloration: explosive coloration from the diffusion of astral elements into the universe. Hence, it is called the Galactic Sea Slug if ;you can't pronounce its real scientific name, Chromodoris galexorum !!
This species occurs in the central and southern Gulf of California (from Guaymas and the La Paz regions, including their respective offshore islands), from 3-45 meters deep. This species has also been reported from several locations on the Pacific coast of the Baja California peninsula: from Isla Guadalupe and I have collected it from Isla Cedros (once in December).
---
Photos and text by Dr. Hans Bertsch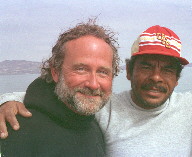 Dr. Hans Bertsch

Assoc. Prof.
Dept. of Math and Natural Sciences
National University
192 Imperial Beach Blvd. #A
Imperial Beach, CA 91932
FAX (619) 423-9118
Send Hans E-Mail at hansmarvida@cox.net

---
© The Slug Site, Michael D. Miller 1998. All Rights Reserved.




---