Hypselodoris sp.
Courtesy of Cindy Benner
Sipadan
June, 1991

---
Hypselodoris sp.
That this very large, very common and very lovely chromodorid nudibranch has never been described makes a statement to the degree of taxonomic coverage which Indo-Pacific opisthobranchs have received todate. Literally hundreds of undescribed species await complete scientific examination and description. Striking photographs of this undescribed beauty exist in almost every book out today on coral reef animals. It has been referred to for years incorrectly as a color variation of Chromodoris bullocki Collingwood, 1881 (Wells & Bryce, 1993, sp. 160; Allen & Steene, 1994, cover photo and page 194). Colin & Arneson, 1995, sp. 153 & 154 and Gosliner, Behrens & Williams, 1996, sp. 579 refer to it as Chromodoris sp. Debelius, 1996 contains a four page spread which includes at least six distinctly different undescribed species and the actual C. bullocki. In his discussion he suggests that several valid species exist, requiring more taxonomic studies. Such studies are being done and hopefully we will see the description of this species soon, being prepared by Drs. Kikutaro Baba, Richard Willan and Terrence Gosliner.
The real C. bullocki, recently reassigned more correctly to the genus Hypselodoris in Rudman, 1995, can be seen in Coleman, 1989, pg 31; Debelius, 1996, cover, upper left, pg 230 bottom, 232 photos 1 & 3; and Gosliner, Behrens & Williams, 1996, sp. 570. H. bullocki (Collingwood, 1881) is a cream color with thin white marginal line. The rhinophores and gills vary in color from white basally with reddish tips to solid orange or red.
The Hypselodoris shown above in Cindy's fantastic photograph is clearly differentiated by its deep purple body and foot and wide marginal band comprised of diffuse honey comb network pattern of white pigment. As seen in this photo and both Debelius, pg. 232, no. 8 and Gosliner, Behrens & Williams, sp. 579, the gills and rhinophores are a deep opaque orange.
Debelius, 1996 includes several other similar but distinct color variations, a couple of which require internal scrutiny before they can referred to as distinct species. We group these others as: 1) the deep purple species with thin white marginal line, orange gills (pg 231), 2) the deep purple species with wide solid marginal band, purple gills (pg. 233, no. 7), 3) the deep purple species with thin white marginal line, red gills and rhinophores (pg. 233, no. 5) 4) the light purple species with submarginal dark purple line and dorsal white ring, red gills and rhinophores (pg. 233, no. 6), and then 5) the cream colored species with red marginal band, red gills and rhinophores. Confused yet? Yes, there is a whole bunch of work to be done on these critters.
Cindy's species above is known from Western Australia, Indonesia, Borneo, the Philippines and Okinawa. We have collected specimens as large as 100 millimeters in Batangas, Philippines where it is very common in shallow waters.
Well, named or not, while we are waiting for Baba, Willan & Gosliner description, lets just sit back and enjoy Cindy's lovely pic.
---

Photo courtesy of Cindy Benner of San Diego, Calif: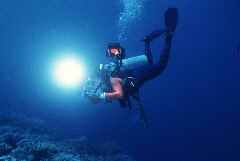 Cindy Benner became certified in 1978 and started taking underwater photos in 1983, although mainly on tropical dive vacations in the Caribbean and Mexico. Through her work, she was lucky enough to make trips to Hawaii, the Philippines, and Guam, and always extended her time for a vacation. She has been to Batangas and Cebu in the Philippines, as well as to Guam and Truk. In 1991 she went to Sipadan when it was still virgin diving. After 1992, there was a gap of years when she stopped diving and underwater photography. Unfortunately, she did not experience the diving wonders in California until earlier this year when she purchased a custom-made wet suit. Before, she had a used wet suit which constricted her breathing so she did not dive, simply thinking she was uncomfortable with the surf , surge, and cold water. So now Cindy is enjoying cold water diving and is getting back into underwater photography.
---
Taxonomic information courtesy of:



---
© The Slug Site, Michael D. Miller 1997 All Rights Reserved.






---