Phyllodesmium macphersonae
Image courtesy of David Cowdery
Photo taken at Julian Rocks Marine Park, Byron Bay, Australia.
Nikon D800 with DS160 substrobes


Phyllodesmium macphersonae (Burn, 1962)
This genus of aeolids is found only in the topical Indo-Pacific. All species are specialized predators on octocorals. Most species have symbiotic zooxanthellae that are capable of carrying out photosynthesis providing oxygen and nutritional sugar to the animal. This group of aeolids also lacks the ability to store nematocysts, so must depend on other forms of defense.
Phyllodesmium macphersonae is light grey in color with small brownish dots that extend up the base of the cerata, oral tentacles and rhinophores. It can be found on several soft corals.
If you want to see this lovely species come join us at Crystal Blue Resort in Anilao this May for our second annual Nudibranch Festival . There are still a couple of slots open.
Thanks again for sharing David.
Dave Behrens
Sammamish, WA 98074
Feb., 2017
Send Dave email at davidwbehrens@gmail.com

---
David Cowdery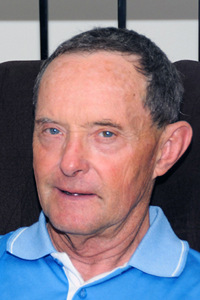 Dave Cowdery is a retired biomedical engineer and Divemaster at Byron Bay Australia. He has over 5000 logged dives. He is a keen participant in trips organized by Graham Abbott at Diving4Images and has dived the tropics extensively from Cocos Keeling Islands east to Niue. 3 Camera equipment used: D800 with DS160 substrobes

Send Dave mail at divec@ozemail.com.au

---
From left to right, Terry Gosliner, Angel Valdes, Dave Behrens La Jolla, Calif. Send Dave email at davidwbehrens@gmail.com

---
© The Slug Site, Michael D. Miller 2017. All Rights Reserved.

---