Hypselodoris bullocki (?)
Image courtesy of David Cowdery
Photo taken at south western Sangeang in Indonesia
Nikon D800 with DS160 substrobes


Image courtesy of David Cowdery
Hypselodoris bullocki (?)

There used to be a game show in the US in the early days of television that featured a celebrity panel that tried to guess the identity of a guest with a mask on. The panel would ask the guest contestant various questions designed to ferret out the guest's identity. The present situation with the Hypselodoris bullocki complex reminds me of this show but much more perplexing. Dave Cowdery just send me some pics taken on a recent Graham Abbott trip to Indonesia (Webmaster's Notes-If you ever get a chance to dive with Graham, do it!!!!!!) The original Hypselodoris bullocki description with the creme coloring seems to have morphed into a number (and I'm losing count) of variants that will probably only be resolved by DNA analysis which on a preliminary basis indicates we are in fact dealing with separate species! Check out the color rendition on an image submitted by Jim Black .

It would be interesting to see the off spring of our variant couplings! That probably isn't going to happen but it is interesting to look at a photo given to me by Winfried Werzmirzowsky back in 2004 during a visit to Germany. Looks like our hybrid in living color if that were to be the case! Of course photos like those above probably beg more questions than they answer! What better excuse to go visit our friends in the sea!

Nice Find David!
Michael Miller
San Diego, Calif
Sept., 2015
Send Mike email at mdmiller@cts.com

---
David Cowdery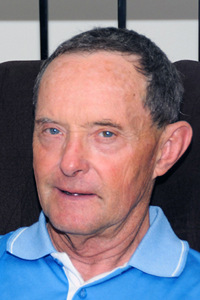 Dave Cowdery is a retired biomedical engineer and Divemaster at Byron Bay Australia. He has over 5000 logged dives. He is a keen participant in trips organised by Graham Abbott at Diving4Images and has dived the tropics extensively from Cocos Keeling Islands east to Niue. 3 Camera equipment used: D800 with DS160 substrobes

Send Dave mail at divec@ozemail.com.au

---
From left to right, Terry Gosliner, Angel Valdes, Dave Behrens La Jolla, Calif. Send Dave email at davidwbehrens@gmail.com

---
© The Slug Site, Michael D. Miller 2015. All Rights Reserved.

---