Chromodoris epicurius

Images courtesy of Marc Chamberlain
Tasmania
Chromodoris epicurius (Basedow & Hedley, 1905)
Well here is a new one to me thanks to Dr. Marc Chamberlain. Right off the bat in my investigation of it I note a slight change in the spelling of the trivial name from epicuria to epicurius, to correct the gender (Johnson & Gosliner 2012). I had always thought this species of a temperate southern Australian but obviously not. It has been reported from Northern Victoria, Tasmania and southern Australia. Bill Rudman in the Sea Slug Forum states
"...There is some variation in colour in this species throughout its range, different parts of the colour pattern being emphasized in different populations. In general the body and mantle are translucent whitish with the creamy-brown or pinkish viscera showing through. Around the edge of the mantle is a broad band of opaque white resulting from both surface pigmentation and the opaque white subepithelial mantle glands. The mantle is marked with thin irregular white lines arranged longitudinally. There are also large orange spots which form a submarginal band around the mantle and smaller orange spots scattered all over the central part of the mantle. Each of these small orange spots sits on a white line and is surrounded by a thin white ring. The orange ranges from a pale yellow-orange to a dark red-orange in different specimens. The gills and rhinophores are translucent and both are edged in white. The foot and the sides of the body are translucent with a dusting of white. There is a submarginal band of orange spots around the foot, including the anterior edge..."
Regional variation: (Bill Rudman)
o Victoria: Specimens from Mallacoota in northeastern Victoria are heavily pigmented with creamy-white closely spaced lines forming a prominent pattern on the dorsum. The background colour is a translucent yellow-brown. Orange spots form a submarginal band around the mantle edge but there are few orange spots elsewhere on the mantle. In contrast specimens from Western Port and Port Phillip Bay in southern Victoria have a translucent mantle finely dusted with white and with traces of longitudinal white lines. There are orange spots scattered over the central part of the mantle.
o Tasmania: Specimens from both the northern and southern coasts are similar to the southern Victorian specimens.
o South Australia: Specimens from both the Eyre and Yorke Peninsulas were examined. In both samples the longitudinal white lines though often present were not prominent. The orange spots in the central part of the mantle are each surrounded by a prominent white ring and the spot is usually slightly raised. The background of the mantle has either very little white dusting and so is translucent except for the opaque viscera and white band of mantle glands, or was heavily dusted in red giving the body a deep pinkish background. Most specimens with a deep pinkish background have only irregular traces of the longitudinal white lines. One consequence of the pinkish background is that the orange spots on the inner part of the mantle appear much darker (almost red) than those forming the submarginal mantle band where the background is white. In these pinker specimens there is often orange spots or lines on the edge of the gills.
Marc's specimen matches perfectly those observed in Tasmania, and as stated on the Forum, differs substantially from specimens from southern Australia.
Rudman continues stating
"...This species was described from South Australia eighty years ago (Basedow & Hedley, 1905) but as the original description was based on one specimen of an unusual colour form it has remained unrecognized in the literature since that time. Burn (1957), named the common Victorian colour form, with distinctive longitudinally arranged white lines, Glossodoris victoriae, not recognizing its relationship to Basedow & Hedley's Hypselodoris epicuria. Specimens from Tasmania are very similar in colour to those from southern Victoria and some specimens from both the Eyre and Yorke Peninsulas of South Australia have the typical colour pattern of "Glossodoris victoriae". Specimens reach up to 35 mm in length and feed on the sponge - Darwinella gardneri..."
This makes my day. I love learning new stuff like this and even get to share it with all of you. Thanks for the wake up Marc.
Dave Behrens
Sammamish, WA 98074
Nov., 2014
Send Dave email at davidwbehrens@gmail.com

---
Marc and Michelle Chamberlain on location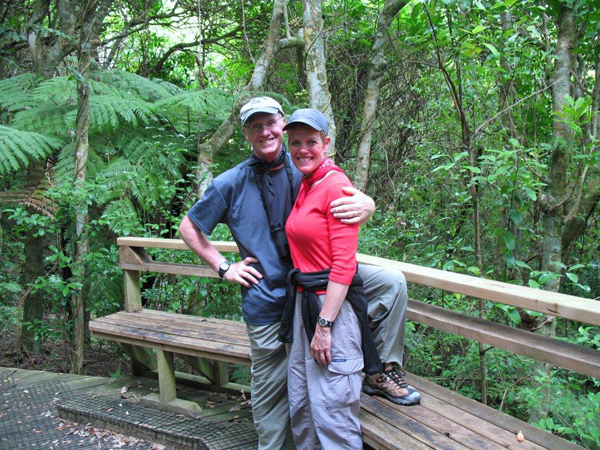 Marc and Michelle have resided in Seattle, Washington for the last 8 years. Both are dive enthusiasts and enjoy diving the Pacific Northwest both locally (Puget Sound, Cape Flattery, and the San Juan Islands) and locales further north (British Columbia and Alaska). On occasion they venture into warmer waters with Indonesia being their favorite overall destination. Marc is a underwater photographer by avocation and shoots a Nikon D300 in a Subal housing with a pair of Sea and Sea YS250 strobes and a Sola modeling light. Their diving excursions of recent have been primarily cold water chasing the difficult to find Pacific spiny lumpsucker, rock greenling and bobtail squid. Marc considers a satisfying dive one in which a new animal is digitally captured that illustrates the animal, it's environment and behavior.

Tasmania, a large island located south of Melbourne, Australia, is principally known for wet eucalypt forest, expansive national parks, numerous waterfalls, towering dolomite shorelines and a plethora of marsupials including the last remaining Tasmanian devils. Diving is principally off the east coast and is confined to 2 locales, Bicheno on the central coast and Eaglehawk Neck on the Tasman Peninsula where a single operator at each location is available for diving charters. Both areas are defined by cold water (temperature 50 F) and deep dives (usually >100'). At one time there were great Macrocystis kelp beds but global warming and a change in currents have reduced the Macrocytis forests to 5% of their previous acreage. Diving is characterized by deep relatively low profile polychromatic sponge gardens decorated with sea whips often with schooling of butterfly perch. The best shallow dives are Pirates Cove pier on the Tasman Peninsula and Waub Bay in Bicheno. Nudibranchs are relatively infrequent but there are wonderful animals to find such as the weedy sea dragon, giant cuttlefish, sand octopus, long-snouted boarfish and red handfish.

Send Marc mail at chambemc@seattlecca.org

WEBMASTER'S NOTES:
Marc is being a bit modest in his underwater photographic credits. During the time Marc lived in the San Diego area and was a member of the San Diego Underwater Photographic Society, He was Underwater Photographer of the Year seven times, a record that has yet to be surpassed.

---
From left to right, Terry Gosliner, Angel Valdes, Dave Behrens La Jolla, Calif. Send Dave email at davidwbehrens@gmail.com

---
© The Slug Site, Michael D. Miller 2014. All Rights Reserved.

---