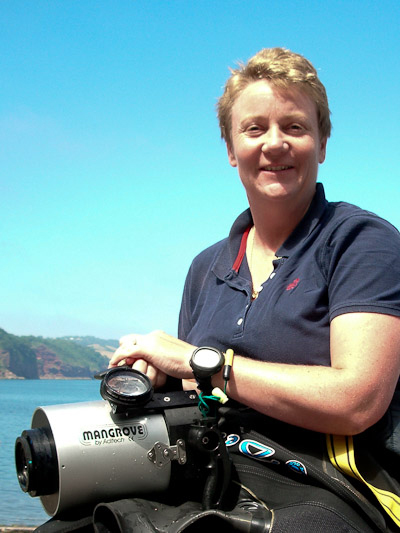 Tambja zulu Pola, Cervera & Gosliner, 2005
Known originally only from Kwazulu (hence the name "zulu") Natal, South Africa, it seems fitting that we add this to our memorial series for Nelson Mandela.
This photo extends the geographic range of the species. It is a freeze frame from a video taken in the Egyptian Red Sea, by Jo Horrocks, on the wreck of the SS Thistlegorm, which lies in 30 meters of water. Jo told us that "It was a merchant navy ship that was sunk in October 1941, during the 2nd World War. Most other people visit the wreck to see the cargo of jeeps, locomotives, motorbikes, rifles and ammunition, but it's the new residents of the wreck that fascinate Jo. She spotted the critter crawling over the tire of one of the motorbikes and stopped to watch it for as long as she could."
Its external description is easy - black with yellow lines on the body and on the gills. And that's about all we know about this species.
Jo's diving experience started back in 2000, she always loved swimming and snorkelling, so learning to dive and being able to spend more time exploring underwater was a a natural progression. Jo qualified as a PADI Divemaster after a few years and after 4 years bought her first video camera and underwater housing. To quote Jo "...It's very rare that I get in the water without my video nowadays, as I just know that if I don't have it with me, something amazing will happen!! As I work full time, my diving is limited to holidays abroad and weekends in the UK. Diving has taken me to some amazing places, that I'm sure I'd never have seen had I not been a diver and I feel very lucky to have been able to witness some incredible spectacles that most people only dream of..." Jo is a member of the British Society of Underwater Photographers, she has also been featured in UK's Dive Magazine, had successses with my videos in the British Underwater Image Festival, the North California Underwater Photographic Society annual competition and a couple of her films have been shown at the San Diego Undersea Film Exhibition in Southern California.