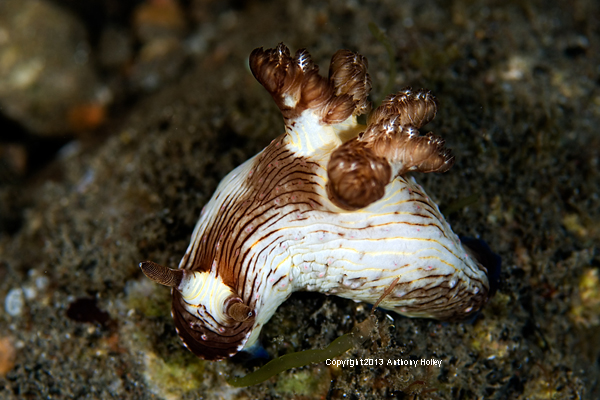 Nembrotha sp. undescribed

Well here is another interesting nembrothid delema. When I first saw the photo I thought it was a faded aberrant variation of Nembrotha mullineri. With a few suggestions from webmaster Mike, I started to see the differences, the most important of which are the lack of large areas or brown and cream on the body, the series of white tubercles on the frontal veil, the deep blue color on the foot and mouth region and the coloration of the gill and rhinophores.

Similar to our discussion of Nembrotha cf milleri a few weeks back the mantle glands are easily seen as a red spot situated on the pores.

Apparently this fellow is not uncommon, having been documented from Rinca Island, Indonesia, Anilao, Philippines ( Jim Black , Michael Miller, Ali Hermosillo ) and Sabang Bay, Philippines( Martin Buschenreithner).