Eubranchus sp.
Top image courtesy of Marcel Tanke
Tulamben, Bali, Indonesia



Eubranchus sp. (undescribed)
We don't know much about this new species. It was discovered only a couple years ago in Tulamben, Bali, on the house reef of the Villa Markisa Dive Resort . It didn't even make it into Indo-Pacific Nudibranchs. At first we thought it was a Doto, but the smooth rhinophores, lacking the pulpit, disproved that.
One interesting characteristic about its morphology is that the cerata point forward, rather than the universal arrangement of cerata flowing towards the tail in all aeolids. The rhinophores and head tentacles are long and smooth. The body is white with a very characteristic medial brown stripe. The cerata are clear revealing a branch of the pinkish liver diverticulum. Each has several white lines extending to a opaque apical bulb.
This species has similarities to Eubranchus sp. 4 in into Indo-Pacific Nudibranchs (page 356), but that species cerata are quite different with tubercles on the lower half and a subapical orange band. Both are rather large (up to 20 mm) and live on plumularid hydroids.
Dave Behrens
Sammamish, WA 98074
Apr., 2013
Send Dave email at davidwbehrens@gmail.com

---
Marcel and wife Marion at Club Ocellaris, Anilao, Philippines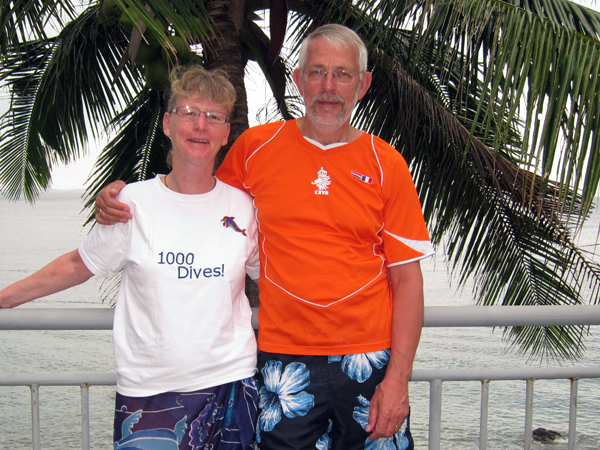 Marcel and Marion presently again live in their native country, the Netherlands. They started diving during the 14 years that they lived in China and Korea. Marcel has BSAC Instructor diving level. Diving took them pretty much all over Asia and many other places. Nudibranchs became their main interest after several trips to the Philippines and Indonesia. Marion is "spotter" for the nudibranchs and Marcel is taking the pictures.

Marcel is still using his "point and click" Canon Ixus 900TI Digital Camera (see http://slugsite.us/bow2007/nudwk586.htm )

Send Marcel email at marceltanke@cs.com
---
From left to right, Terry Gosliner, Angel Valdes, Dave Behrens La Jolla, Calif. Send Dave email at dave@seachallengers.com


© The Slug Site, Michael D. Miller 2013. All Rights Reserved.

---