Flabellina cooperi
on Corymorpha palma (tubularian hydroid)

Images courtesy of Gayle Van Leer
La Jolla Shores, San Diego, Calif

Flabellina cooperi (Cockerell, 1901)

We have all ready run this beauty as a Nudibranch of the Week, but since this photo is so awesome, we can't help chatting about it again.
Eastern Pacific Nudibranchs list the species as rare, but since it keeps popping up in Southern California, I may have to change that status.
This spectacular photo shows a pair of the species feeding together on Corymorpha palma. What more proof could you ask for except this?
The species anatomical features are clear as the ring of a bell - verrucose rhinophores, white line down the mid-dorsum, cerata with reddish-brown cores and white tips. We can even see the characteristic greenish-blue patch over and left of the cardiac region.
When Gayle first sent us the photos of these guys, she mentioned also finding lots of Cumanotus sp. (Home Page Image this Week, also by Gayle). This is the second time in two years both species showed up together. My guess is that their simultaneous presence is due to a population explosion of their food preference, the tubularian hydroid, Corymorpha palma .
Thanks and ...Keep those eyes open Gayle.


Dave Behrens
Gig Harbor, Washington
Sept., 2012

WEBMASTER'S NOTES: Gayle is certainly at the cutting edge of underwater photography. This week's image was also posted on John Moore's Photo of the Week server for DiveBums, at the top of list I might add! I too highly recommend Dave Hinkle !
Here is a comment Gayle posted on DiveBums regarding her U/W camera system and techniques!
"...I did great with the smaller Sony point and shoot cameras for years then "graduated" to one of the higher end point and shoots about a year ago because I just can't afford to go the next step of interchangeable lens system at the moment. Maybe someday. I got great results with those smaller point and shoots especially shooting macro, also without a strobe using basically the internal flash and a white light halogen/LED type flashlight. It's called "continuous lighting" and seems to work best with macro. Bigger than 6" and you are out of luck. When the Sola lights hit the market I started using a Solo 1200 which makes it so I can shoot a bigger object but still can't light a wide angle shot very well with just one Solo 1200. Not sure I will ever buy strobes at this point but we shall see. The camera I have right now is a Nikon P7000 which is the first model of this series of Nikon cameras to come out. About 6 months after mine came out they released the P7100 which corrected a bunch of the negatives about the P7000 but was not enough of an upgrade for me to shell out some more money for a new camera and housing. My housing is a Fantasea. This camera is basically similar and rated about equal to the Canon G12. I went with it because it will zoom out to 200 vs the 140 I believe of the Canon G12 and the fact it will keep refocusing a video as it is shot vs the Canon G12 that does not. This week they released the P7700 which looks really interesting. Major upgrade from my P7000 that could be tempting. Not sure how long before Fantasea will release a housing for it. Check it out before you decide on the Canon G12. Comparison reviews should be out in the next few weeks.
Contact Dave Hinkle at http://www.blueabyssphoto.com/ in La Jolla for the place to go to for your underwater photo stuff..."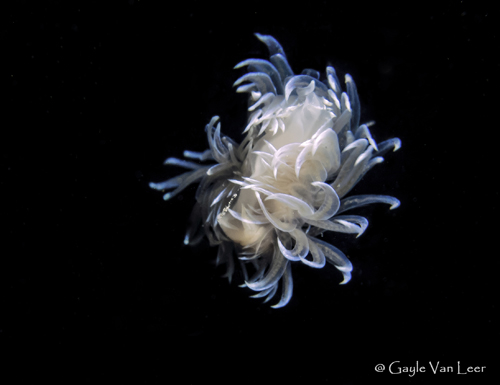 For those of you that are interested in how Gayle took the home page Cumanotus sp. image, the following may be of interest! I am also using Sola 1200 lights and experimenting with the use of continuous light for still images. Gayle's work in this area is certainly giving me inspiration!

In response to my question regarding her use of the Sola lights:

"....Sure Mike but I don't do anything special, just find the subject, turn on the light, move it around until I like the lighting and composition, and take the picture. I don't own strobes. I have a Big Blue focus light I turn on too sometimes to try to cancel out as much backscatter as possible but that is about it. Lights are attached to Ultralight arms. It's a point and shoot camera so I am fairly limited in tweaking. I do have the shutter speed set fairly high at 250 which surely helped here given it was swimming. Between the surge and the small movements of the critters and the shutter lag that seems to work best for me. I would have loved a few more shots of the Cumanotus but the shutter lag just killed me. This is the best of 15. Most of the others were just white blobs of blur. These shot with a 5X wet lens which limits my depth of field more than anything. All my photos are taken with the Sola light it seems to work really well for small subjects. If my camera was better I could get better depth of field consistently..."

Send Gayle email at divin@gaylevanleer.com

---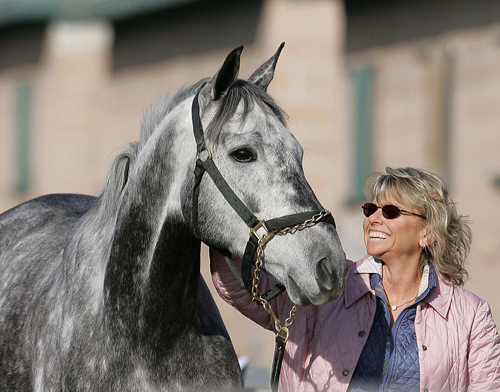 A native Californian growing up in the Santa Barbara area, horses and the ocean were a passion from an early age for Gayle who currently is a consultant in the thoroughbred horse racing industry. As a child, when not playing in the surf and exploring tide pools, she was riding horses, sometimes on the beach.

A diver for nearly 20 years racking up 600 dives while on the road exploring some of the world's well known, and not so well know oceans, three years ago after purchasing a dry suit she became instantly hooked on diving in her local Southern California waters and is now quickly closing in on dive number 1,000.

Always an avid photographer, when photography went digital she started taking a simple point and shoot camera on every dive, and still shoots with one today. Their ability to capture great macro shots perked her interest in learning more about the smaller creatures of the seas and a Zen for nudibranchs developed from there.

Now living in Del Mar California she is fortunate to be in an area where she can thoroughly enjoy her dual passions of horse racing and diving.

Send Gayle email at info@gaylevanleer.com

---
From left to right, Terry Gosliner, Angel Valdes, Dave Behrens La Jolla, Calif. Send Dave email at davidwbehrens@gmail.com


© The Slug Site, Michael D. Miller 2012. All Rights Reserved.

---