Phestilla sp. 2
Photo taken at Kavieng, New Ireland, Papua New Guinea
Photo courtesy of Susan Kearney


Phestilla sp. 2

(undescribed) This is a very characteristic Phestilla, which would be impossible to confuse with any other species. We have listed it as Phestilla sp. 2 in Indo-Pacific Nudibranchs on page 372. The powder white dorsum free of cerata and red rhinophores are characteristic. as is the shape and coloration of the cerata, tipped in white with a red sub-apical ring. Susan has done a great job of capturing the gaudy red-orange egg ribbons. This pair was quite productive. An interesting observation is that the first ribbons laid are denser, carrying more eggs, than the lighter colored ribbons carrying fewer eggs.

Dave Behrens
Sammamish, WA
Jun., 2012

---
Sean and Susan Kearney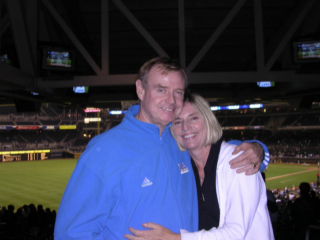 We have both been certified since the late 1970's. Have really increased our diving since our retirement in 2004. We travel about 4-5 months a year on diving adventures, mostly in the Indo-South Pacific. Our daughter, son-in-law, and son join us each year in Roatan, Honduras for family diving. We are both avid u/w photographers and nudibranch enthusiasts. Needless to say, we enjoy our retirement.

Sue uses a Nikon D700 in a Subal housing with 2 Sea&Sea Ys90 strobes, and I use a Nikon D90 in an Aquatica housing with 2 Sea & Sea YS 110a strobes.

Sean Kearney
Apr.. 2012


Send Sean mail at skearney@dc.rr.com

WEBMASTER'S NOTES : Sean and Susan are long time supporters of the Slug Site having been the presenters back in 2005 with Limacia cockerelli . Of course, I had completely forgotten about this when they introduced themselves at the Nudibranch Conference held at the Lissenung Island Resort in PNG March of this year. Despite boat problems, bad weather, etc., they were always enthusiastic about getting into the water to see what could be found. Their zeal to forge forward certainly was certainly inspiring for the Webmaster and I tried to follow in their foot steps, signing up for every dive despite weather and mechanical problems. Their perserverance is exemplified in the image above, a memento to this dedication!
---
From left to right, Terry Gosliner, Angel Valdes, Dave Behrens La Jolla, Calif. Send Dave email at dave@seachallengers.com

---
© The Slug Site, Michael D. Miller 2012. All Rights Reserved.

---