Risbecia tryoni (above), Risbecia pulchella (below)
Photo was taken at Coral Gardens, Tulamben, Bali, Indonesia
Photo courtesy of Brad Pryde
Copyright 2010




Risbecia tryoni (Garrett, 1873)

Risbecia pulchella (Ruppell & Leuckart, 1828)

Wow! This is an incredibly significant photo (besides being very nice visually). Chromodorid nudibranchs of the genus Risbecia are notoriously promiscuous and this behaviour seems to be unique to this genus only. This promiscuity is usually exhibited with individuals of the same species where a much larger animal will mate with a much smaller one – this behaviour is quite well documented now, as is their 'trailing' behaviour. Brad's photo clearly shows reciprocal mating (yes; it is reciprocal because the vas deferens of both individuals can be seen within the enlarged genital apertures) of an individual of Risbecia tryoni (above) and an individual of Risbecia pulchella (below) (Links courtesy of Bill Rudman's Sea Slug Forum). So certainly, these species have never heard of sex as a species-isolating mechanism!



Dr. Richard Willan
Curator of Molluscs
Museum and Art Gallery of the Northern Territory
GPO Box 4046 Darwin,
Northern Territory, 0801
Australia.
Mar., 2011

---
Brad Pryde diving at Rottnest off the coast of Perth, Western Australia.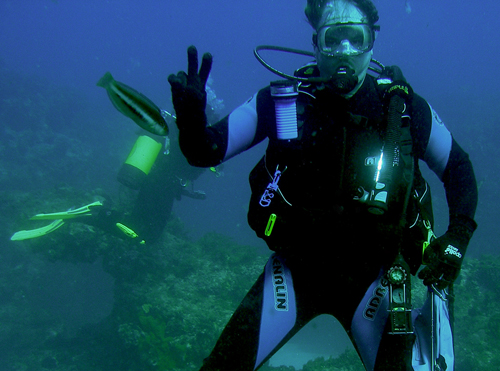 As to the nudi shot, it was taken at Tulamben, Bali – November 2010. Using an Olympus SP350 and PT-030 housing with an Inon UCL165AD macro wet lens. Was on an afternoon critter hunt and just cruising over the Coral Gardens. There were Nudi's everywhere and was enjoying all the different species compared to my home ground. It was more right spot right time than skillful planning. But like I said about being a nudi nerd, could see it was something out of the ordinary. Was just more than happy to have the shots turn out as good as they did. It's amazing what you can find if you slow down and take the time to look.

WEBMASTER'S REMARKS : Yes, it is amazing when you do take the time to look and have the dual presence of mind to recognize and record the one of the many mysterys of the sea. The image can stand on it's own merits aside from its marine biology ramifications, and was in fact selected as a third place finisher in the Ocean Art Photo competition 2010 in the Compact-Camera -Behavior Competition. This is in fact how the image first came to Richard Willan's attention and who in turn was gracious enough to bring it to my attention. I doubt the judge's really understood the full dimensions of what they were looking at but am at the same time thankful they rescued it from possible obscurity! Once again, a diver with keen naturalistic instincts and great photographic skills has brought a behavior to the forefront that is of immense interest to us all! How many times has this story been told on the Slug Site???? Our hats are off to Brad Pryde, Richard Willan, and all the other folks that promoted the visibility of the super image above!

Send Brad mail at bradpr@iinet.net.au
Send Richard mail at Richard.Willan@nt.gov.au

---
© The Slug Site, Michael D. Miller 2011. All Rights Reserved.

---