Glossodoris sp.


Photo's courtesy of Lawrence Neal
Tablamu, Phangnga Province 10 metres depth, Western Thailand
Copyright 2010

Glossodoris sp. (undescribed)

If there were such a thing as a beauty contest for Nudibranchs, this gorgeous species of Glossodoris from the Andaman Sea would be right up there among the top contenders, perhaps taking the prize for "most photogenic". Its translucent milky white colouration, opaque white marginal and orange-red sub-marginal lines on mantle and foot, and solid red gills and rhinophores certainly set it apart from the crowd. Some specimens (see photo below) also sport an attractive pale rose pink notum with varying densities of white speckles, although whether or not this variant is a completely different species or not is open to debate. As both variants are otherwise very similar in form and size (around 50 mm), share the same shallow rocky/sandy environments, and co-exist in the same relatively small geographical range, my feeling is that they are probably colour forms of the same species.
And what species is that? you may ask. Tough question. The species seems to be endemic to the Andaman Sea and quite uncommon, with just a handful of published records from Western Thailand and Burma's Mergui Archipelago. It certainly shares similarities with other species - Glossodoris averni with its solid orange or red marginal border, the widely distributed Glossodoris symmetricus, and the Hawaiian endemic Glossodoris poliahu, to name a few. A similar un-named species has also turned up in Indonesia. But the white marginal band and orange-red sub-marginal lines seem to set it apart in all cases. Perhaps for now Glossodoris sp. "Andaman" will have to suffice.
Lawrence Neal
Bangkok, Thailand
Dec., 2010
Color variation of Glossodoris sp.

---
Lawrence at Tulamben, Bali, Indonesia with
Agung Volcano in background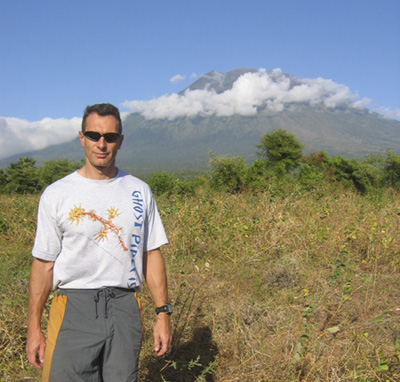 Lawrence is a newspaper journalist based in Bangkok, Thailand. He escapes the office as often as he can to go diving in the rich waters of the Indo-Pacific but his regular dive sites are just down the road at Pattaya in the Gulf of Thailand or at Khao Lak on the Andaman coast.

Lawrence uses a Nikon D200 in a Nexus housing with a pair of Inon Z240s. The photo at top was taken using a 105 mm macro lens.

Send Lawrence mail at lorenzo_n@yahoo.com

---
From left to right, Terry Gosliner, Angel Valdes, Dave Behrens La Jolla, Calif.

Send Dave email at DavidWBehrens@gmail.com

---
© The Slug Site, Michael D. Miller 2010. All Rights Reserved.

---