Umbraculum umbraculum mating
Sunshine Coast of Queensland
Gary and David's Nudibranch Empire
Photo courtesy of Gary Cobb
Copyright 2010



Gary Cobb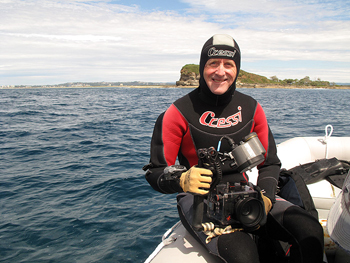 Gary and David's Nudibranch Empire
Sunshine Coast, Queensland, Australia

For seven and a half years now we (Gary Cobb & David Mullins) have been seriously searching for and recording every species of Opisthobranch in our survey area, The Sunshine Coast of Queensland, which covers from Noosa in the north to Woody Point in the south. Over that time we have found 437 species and gained experience and skills from collecting and adding further information about these creatures to our records. We have information about the families to which they belong, information about their natural history, i.e. mating, spawning, feeding and various external anatomical features. Sometimes we had discussions between ourselves about which site was the most productive or which species was the most frequently found etc. Often these "discussions" led to differences of opinion and disagreements arose.
Exactly twelve months ago it was decided therefore to develop a database of our finds for each trip recording the species found at each site. We felt that the six and a half years we had spent searching up until then had given us sufficient experience to be confident that we would know where, how and what to look for in order to find most of the creatures in the area we were searching. By putting the information we have recorded over the past year into a database it has allowed us to produce some interesting facts and statistics.

- Most productive site: Shellacey Reef, Gneering Shoals with 98 different species from 10 trips comprising 19 dives with 2 searchers on each dive. - Second most productive site: Flinders Reef (western side) with 75 different species from 11 trips comprising 18 dives. - Concerning where we find most species new to our list: Flinders Reef (western side) has produced 16 new species and Shellacey Reef 11 new species. - The most productive single trip: Trench, Gneering Shoals on 21/11/09 when we recorded 38 different species.

David at the helm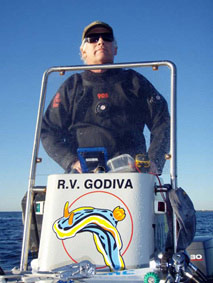 The information we enter into the database is taken from our Blogger on the website. If you visit the Blogger you will see the list of species found on each trip with the date and site recorded. Pics taken that day of some of the species are also posted there as well as underwater views of the site.

nudibranch.com.au which tops out Google searches, presents everything we have found and also offers indentification of species for those who inquire. The website is updated after every outing and we also feature our latest find and a pic of the week. In addition there is a Discussion and News page. The site has proved very popular and is visited by many people from all over the Globe.

Gary, together with Richard Willan, wrote a book about our first 277 species called Undersea Jewels - A Colour Guide to Nudibranchs. This is the first ever Colour Identification guide allowing the reader to locate a nudibranch by its main body colour. The website too offers a search function enabling the visitor to enter the colour and nudibranchs of that colour are retrieved.
Some folk ask why we don't travel to exotic places and see new things . . . after seven and a half years we are still finding new species in our own"backyard". The Easter Egg Hunt will never end!

23 New Records Australia 2 New Records eastern Australia 70 New Records southern Queensland 111 Species found intertidal

Here are some of our favourites…

Hypselodoris babai , Gosliner & Behrens, 2000
Phyllodesmium koehleri, Burghardt, 2006
Elysia bangtawaensis , Swennen, 1997
Godiva quadricolor, (Barnard, 1927)
Phyllodesmium sp.
Trinchesia sp.
Ceratosoma magnificum , (Van Hasselt, 1824)
Glossodoris aeruginosa , Rudman, 1995
Glossodoris dendrobranchia Rudman, 1990
Facelina sp.
Gymnodoris sp.
Thuridilla neona Gosliner, 1995


The one thing the readers have to understand about David and I - Nudibranchs in our area of study is our PASSION and MISSION . We can't find it in our hearts to travel to exotic sites and search there because we are proving that "your own backyard" is a never ending exploration of Opisthobranchs! You can go to a site and search BUT you can't search EVERYTHING! By the way we work very closely with Richard Willan at the Darwin Museum . We find new critters and preserve them for the wet collection. We also work with Terry Farr and Julie Schubert who work the Caloundra area. We dive or search intertidal areas every opportunity we get. The BLOG on our website has the latest info about what we do each outing and shows substrate, list and pics.

To enjoy a short flash show in 480p format of Gary's and David's latest finds, please click here!

Send Gary mail at gary@nudibranch.com.au


Send Dave mail at marineimages@hotmail.com


WEBMASTER'S NOTES: Gary and I have been wanting to do this page for some time as an update on Gary and Dave's branching activities down under! They definitely speak my language when they invoke terms like passion and mission. These two words more than adquately exemplify the driving force among a large segment of divers, naturalists, and hobbyists who just want to better understand our friends "the jewels of the sea"! It is through Gary and Dave's eyes and a host of other slug enthustiasts that the marine biology of these amazing creatures is slowly being unraveled! International travel to see slugs isn't what it's cracked up to be in some cases! I think Gary and Dave are fortunate to have the opportunity to do their slugging locally where seasonal changes in species and numbers can be well documented. Where I go, you get a snap shot of two weeks out of the whole year which may or may not be anywhere near representative of the fauna in a particular location. As Gary notes, the "Easter Egg Hunt" will never end. All to often I think slug hunters are hindered by preconceptions of what they may or may not find, and this approach may put a damper on one's zeal to continue the hunt. With the advent of digital camers and their enhanced magnification capabilites, a whole new world is being opened up in 5mm and below Opisthobranchs! Stick around folks, the show won't be over in our lifetime! On the other hand, I want to offer an observation that is making the rounds of the "old hands" divers, if you want to see what the oceans have to offer, don't delay in seeing it!

Pls drop Gary or Dave a note if you can find time and thank them for their great work down under!

Michael Miller
San Diego, CA
Sept., 2010

---
© The Slug Site, Michael D. Miller 2010. All Rights Reserved.

---