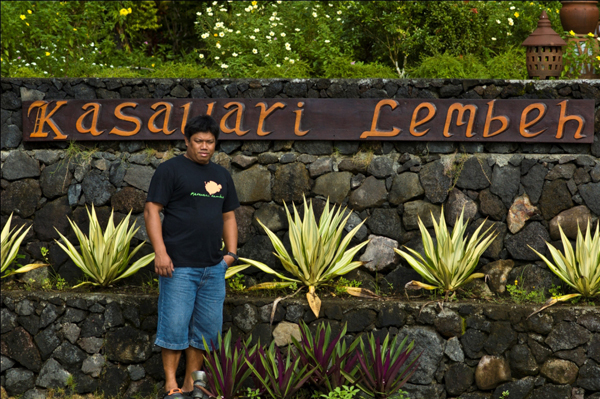 Nuswanto Lobbu is the current resort manager at Kasawari-Lembeh Resort in Sulawesi, Indonesia. He and his wife Lainie have 3 boys. He was trained by the late Larry Smith years ago...and what a prodigy...a special individual. With keen eyes and intellect, Nus quickly learned early on about the critters, their habitats, and how to achieve the shots that photographers so desperately want. It was a pleasure to watch his growth during my frequent visits. He is carrying on Larry's tradition, having trained a large cadre of the working divemasters in Lembeh and other locales. In this regard, his efforts and leadership will keep Lembeh Strait a world class dive destination for years to come. Nus is also responsible for an incredible number of great biological finds in Lembeh Strait, such as a Dendronotus sp. nudibranch ( BOW567) awaiting scientific description, but rarely gets the deserved credit. I know my photography portfolio would be a good bit short without his assistance.
With the owners, Nus has worked hard to place Kasawari-Lembeh Resort as the premier operation in Lembeh Strait now. He has been managing Kasawari-Lembeh Resort since 2005. The reefs and "muck" of Lembeh Strait are no doubt on the short list of the finest Nudibranch and critter havens on the planet. Nus and his divemasters are acknowledged as the best at uncovering Lembeh's cryptic secrets. The clientele list at Kasawari-Lembeh Resort is a who's-who of underwater photographers and scientists, which supports that high praise. With that constant parade of Photo Pros through his realm, Nus got the "bug", and now has been taking pictures for a couple of years.
You will bask in luxury... be well cared for...and shown the best Lembeh Strait has to offer while in his charge. I am proud to call this fine man my friend.
Jim Black
Bridgeville, PA
Jul., 2010