Hypselodoris zebrina
Andaman Sea, in Ranong province of Western Thailand
Photo courtesy of Lawrence Neal
Copyright 2010



Hypselodoris zebrina (Alder & Hancock, 1864)
The image above is a rare nudibranch, Hypselodoris zebrina (Bill Rudman's Sea Slug Forum), another colourful Indian Ocean species which has seldom been seen much since it was first described in the middle of the 19th century by Alder & Hancock. It's always very nice to encounter this species! The photo attached was taken in the Andaman Sea in Ranong province of Western Thailand, a stone's throw from Burma. It was in a shallow rocky-reef environment. When viewed underwater, the reddish-purple lines appear black, so this species looks very similar to the more common Hypselodoris kanga (Sea Slug Forum), which is also present in the same environments (the Andaman Sea variety of H. kanga has yellow spots and black lines only). If anything, H. zebrina is a bit bigger than H. kanga . In all specimens of H. zebrina that I have seen, there is a reddish-purple longitudinal line on top of the foot and a row of purple-blue spots under the mantle skirt.

Quoting Bill Rudman:

"...It (H. zebrina ) has similarities to Hypselodoris kanga , Hypselodoris nigrostriata and Hypselodoris zephyra all with yellow spots, and bluish purple lines, but in those species the gills are triangular in cross-section, while in your animal they are simple. The species was originally placed in the genus Chromodoris . Although no anatomical information is available the general body shape and colour pattern would suggest that it is most likely to be a species of Hypselodoris ..."
REFERENCE
• Alder, J. & Hancock, A. (1864) Notice of a collection of nudibranchiate mollusca made in India by Walter Elliot Esq., with descriptions of several new genera and species. Transactions of the Zoological Society of London, 5: 113-147.


Lawrence Neal
Bangkok, Thailand
Jun., 2010

Anilao, Batangas Province, Philippines-May 2010
WEBMASTER'S NOTES:

Based on an extract of Alder & Hancock's original description, our group may have stumbled upon what we believe to be a Hypselodoris sp./ Noumea sp. that fit's several of descriptive criteria of H. zebrina but lacks the promiment yellow spots! I wonder.............? Check out a video by John Greenamyer that was taken at Anilao, Batangas, Philippines last month.

"...white with waved crimson stripe down the centre of the back and transverse stripes of the same colour (of unequal lengths) at the sides and around the ends; there are largish yellow spots down each side of the central stripe and between the transverse ones near the margin; a crimson stripe also runs from the cloak along a ridge to the tail. Dorsal tentacles .. with laminated part crimson ... [Gills] simply pinnate, crimson ... "



Mike Miller
San Diego, Calif
Jun., 2010

---
Lawrence at Tulamben, Bali, Indonesia with
Agung Volcano in background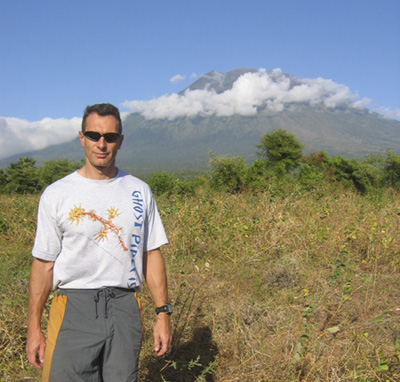 Lawrence is a newspaper journalist based in Bangkok, Thailand. He escapes the office as often as he can to go diving in the rich waters of the Indo-Pacific but his regular dive sites are just down the road at Pattaya in the Gulf of Thailand or at Khao Lak on the Andaman coast.

Lawrence uses a Nikon D200 in a Nexus housing with a pair of Inon Z240s. The photo at top was taken using a 105 mm macro lens.

Send Lawrence mail at lorenzo_n@yahoo.com

---
© The Slug Site, Michael D. Miller 2010. All Rights Reserved.

---