Chloeia viridis
Image courtesy of and copyrighted by Anne DuPont
Lake Worth Lagoon, Palm Beach Florida County, Florida
Nikon Coolpix 8700 in a Helix Housing, with 1 Inon strobe and Fix focus light

An Interesting New Sea Slug Predator- The Red-tipped Fireworm
Well, I used to think that tropical Fireworms just ate hard coral, like the Bearded Fireworm, Hermodice carunculata . Apparently I hadn't run into the gorgeous Red-tipped Fireworm, Chloeia viridis , seen above. Anne Dupont just sent me these fantastic photographs, and I went, wow, since when? "This has to be a fluke." Apparently not - Anne documented three individual worms foraging in the sandy bottom of Lake Worth Lagoon, Palm Beach County, Florida , attacking specimens of the Bubble Snail, Bulla occidentalis seen below.



---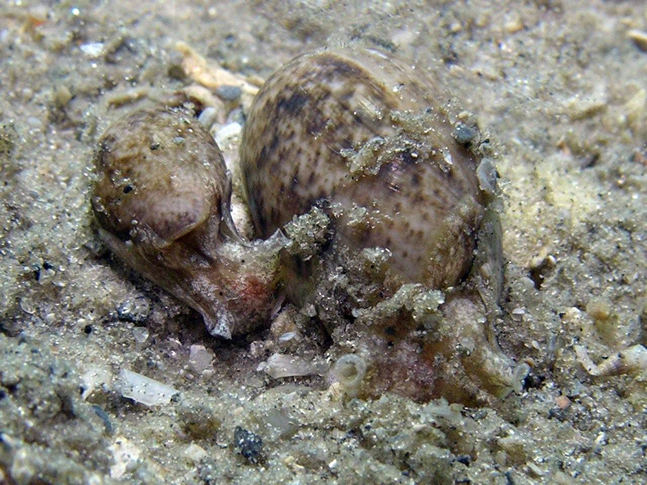 Bulla occidentalis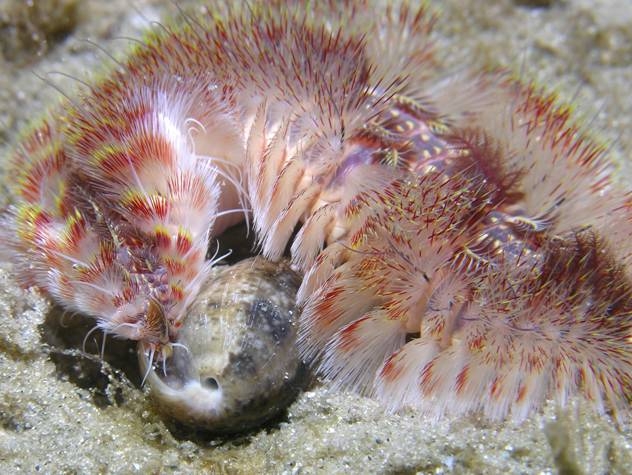 In her series of photographs to follow, we will see the fireworm attack the Bulla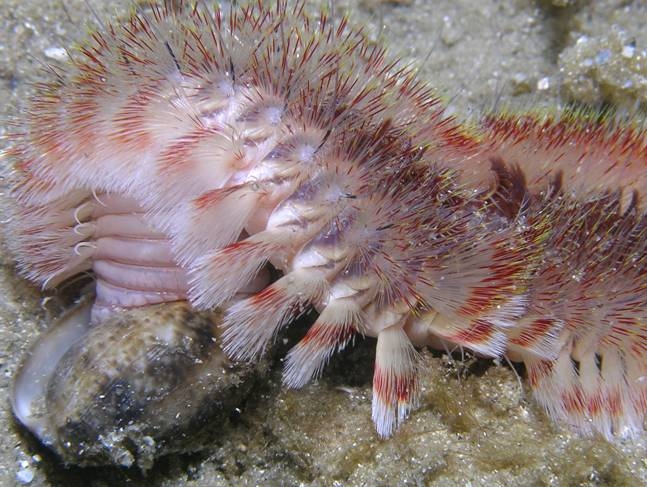 Bulla under attack!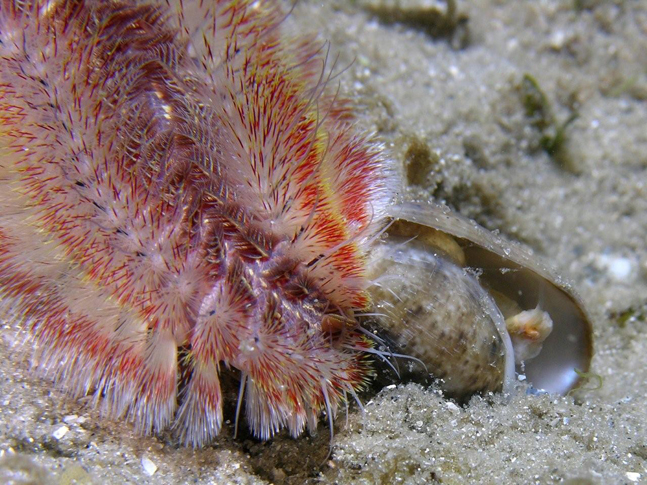 Fireworm about to dine on the Bulla! Fireworm then licks its chops and crawls away. Fantastic!
Aside from the observation reported on page 107 of my NUDIBRANCH BEHAVIOR BOOK , by Dr. Dong Koh, in South Korea, of the nemertean worm, Lineus fuscoviridis , feeding on a young Aplysia parvula , I know of no other worm-like animal feeding on any species of opisthobranch. We could explain this as opportunistic had Anne and her dive buddies not observed similar foraging among a number of individual fireworms. When present, Bulla are quite numerous, making them a plentiful food source. Reef Creature Identification, Florida- Caribbean-Bahamas by Humann & DeLoach (2002) report that this voracious worm forages in the open, is capable of swimming and will even attack fish bait.
Wow. Thanks Anne.
Dave Behrens
Gig Harbor, Washington
Jun., 2010

---
Anne DuPont on location in the Bahamas

Anne DuPont is a scientific diver and underwater photographer specializing in opisthobranchs and polyclad flatworms. She is a Museum Associate in Malacology at the Natural History Museum of Los Angeles County and is a volunteer scientific diver and underwater photographer for the "Flatworm Wrangler's Team" at the University of New Hampshire. She also works with the Natural History Museum of Florida. Her photos have been published in numerous books, magazines, and educational DVDs.

Anne is retired from IBM. She and her husband live in Delray Beach, Florida. They spend 4 months a year on their trawler in the Bahamas. Her favorite pastime at home is "muck" diving in Lake Worth Lagoon.

She is one of the co-authors of " Caribbean Sea Slugs , A field guide to the opisthobranch mollusks from the tropical northwestern Atlantic."

Send Anne email at akdupont@bellsouth.netm

---
From left to right, Terry Gosliner, Angle Valdes, Dave Behrens La Jolla, Calif. Send Dave email at dave@seachallengers.com


© The Slug Site, Michael D. Miller 2010. All Rights Reserved.

---