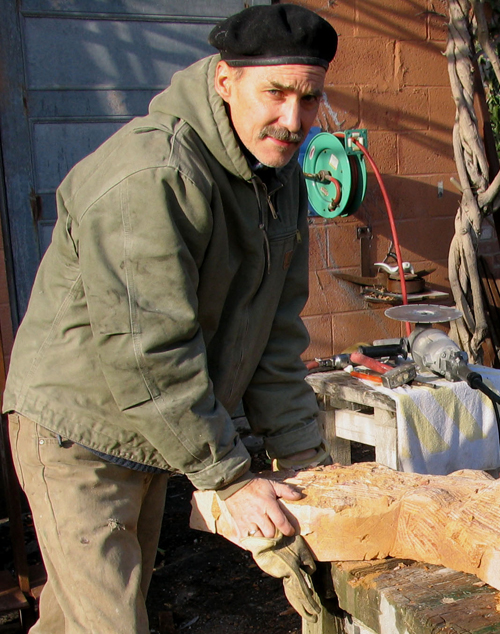 Fellow nudibranch fans:
I am hoping you might be interested in helping with a project that I am working on. A year in French Polynesia at aged 9 - this was back in 1965 - way too long ago - with my father, underwater film maker Stan Waterman, introduced me to diving, and over the years I have accompanied him on many wonderful expeditions shooting various films. We were usually hunting larger marine creatures for the camera, but often the thing that would make a given dive special for me was the discovery of the odd nudibranch hanging out on a coral head. Fast forward 45 years, and I am a stone sculptor who, more often than not, uses the rhythm and grace of things under the sea to inspire my work.
I recently had an art exhibit that was both a fund raiser for a marine conservation group and a celebration of my dad's 60 plus years of diving in conjunction with his 86th birthday. I had carved a number of sculptures of nudibranchs out of exotic marbles and onyx specifically for this event, in addition to the usual shell forms and the odd squid. These nudibranch sculptures inspired a concept for an arts/science hybrid exhibition on nudibranchs that I'm hoping to travel to aquaria across the country and abroad, if I can make it work. It would involve fantastic big photographs of nudis, my nudi stone sculpture, and a scientific angle that looks at the cancer drug research that is being done on the nudibranch's toxic chemistry. I think it could be a fabulous exhibit, and would expose a lot of people to the magic of these tiny, outrageous creatures. My dad will be a big help with all his contacts, and I am pretty excited about trying to make it work. It pulls a number of different aspects of my life together into an interesting package that would get my sculpture seen by a ton of people and would quite simply be a great project to be engaged with. Art and science have a lot more in common than many people imagine - none of us can hope to compete with nature when it comes to exquisite design - we can only riff off it and hope to hit a good note now and again.
I am working this winter to put the concept together, and at this point I am beginning to gather resources for pictures and input into the scientific side of this exhibit. You guys are clearly just the sort of nudibranch obsessed crazies who might be inclined to participate in some way, shape, or form. The most obvious thing I might ask of you would be to gather what you consider your best and most extraordinary photographs of nudibranchs for possible inclusion in the exhibit. Choosing pictures will be hideously difficult, as each nudibranch is more extraordinary than the last, but I will have to end up with a set of pictures that will best represent the incredible diversity in form and color that is the nature of these creatures, as impossible a task as it may be.
My website is www.garwaterman.com, and you can see my nudibranch sculptures in the marine inspired section. Please let me know if you might be interested in being involved in some way with my project. I welcome suggestions, and would like to know about other interesting scientific research being done in the field of opisthobranchia for possible inclusion in this endeavor.
Thanks,
Gar Waterman
New Haven, CT 06515
Jan. 2010

Send Gar email at gar@garwaterman.com