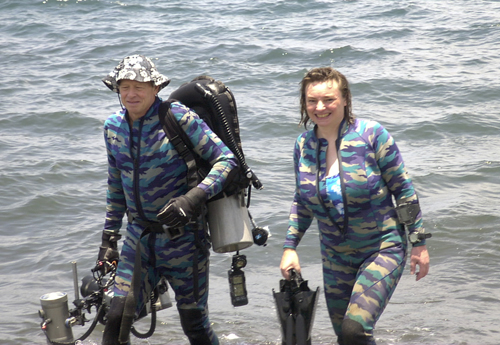 Fred Bavendam is an American with a passion for marine animals and photography. After growing up in Ohio, he attended the University of New Hampshire from which he graduated with majors in art and zoology. He spent the next few years working as a commercial photographer. At the age of 28, Fred took an introductory scuba course and began diving and taking underwater pictures as a hobby. Over time, the hobby became an obsession until he abandoned commercial photography to devote all his efforts to underwater photography in 1985.
Fred's goal, as he takes each picture, is to capture the essence that makes each animal a unique being and the behaviors that allow it to survive in a hungry ocean. He likes nothing more than to take a diver (or even several divers) along with him to follow, observe and photograph a single animal. As a result, his pictures are highly sought after and have been published in many of the world's top magazines.
Fred's definitive photo essays about manatees, the giant octopus, crinoids and frogfishes were each published in National Geographic, Geo Germany and Geo France. Additional stories on cuttlefish, nudibranchs, sea stars, monkfish and marine animal behavior have appeared in many other magazines such as Figaro, Terre Sauvage, Airone, International Wildlife, Smithsonian, Newton and Quark . He has also won several BBC Wildlife Photographer of the Year contests.
Send Fred email at fbavendam@hotmail.com