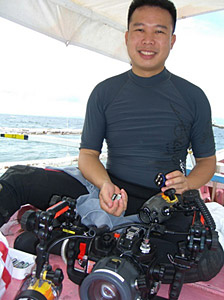 Jeffrey de Guzman is a 39-year old technical diver. He was certified as a NAUI open water diver in 1986. In May 2006, Jeffrey made his first venture into u/w photography with a Canon S80 compact camera. He has since upgraded to a DSLR. Examples of his work have appeared in major publications, such as Australasia Scuba Diver Magazine, Asian Diver Magazine, Popular Photography Magazine, the Padi Project Aware Website, Padi Newsletters, Neville Coleman's Nudibranch Encyclopedia, Indo Pacific Nudibranchs and Sea Slugs, Newsweek, the National Geographic Daily Dozen and three Canon Photo of the Month. Jeffrey was chosen as the Featured Photographer at Scubadivng.com for the month of February 2008, and as the Inon Featured Photographer for July 2008.
In 2009, Jeff won 2nd place (Super Macro Traditional) in Our World Underwater. 1st place in Macro Category Scuba Diver Australasia TTL.
Jeff hopes to house his new Nikon D3x in the near future.
Send Jeff email at jeffdeguzman@gmail.com