Aglaja ocelligera
Being swept along by the current at La Jolla Shores, Calif
Photo courtesy of Tracy Clark

Aglaja ocelligera (Bergh, 1894)

Rudolph Bergh originally placed this species in the genus Melanochlamys . Buddy Terry Gosliner evaluated the internal anatomy and determined this placement to be incorrect and moved the species to the genus Aglaja. In an e-mail yesterday Terry reminded why he did this, stating "It all has to do with the structure of the shell, arrangement of repo organs and penis, but A. ocelligera has all Aglaja characters like the type species A. tricolorata (as seen on Bill Rudman's Sea Slug Forum) from the Mediterranean. Then the punch, pointing out an error in Ali and my book, stating - "On the other hand, Melanochlamys diomedea should be a Melanochlayms because of the larger, fully calcified shell and primitive penis and simply rounded head without lobes."  Ho Humm - well, I guess that's what friends are for.
Spotted as the name implies, this species burrows just under the surface of bottom sediment. It has a whte mark on the lateral head lobes, and the tails are long and conspicuous, with one usually longer that the other.
Tracy has provided us with several interesting photos – one of the burrowing behavior and one with a specimen laying the egg ribbon . Aglajids lay their eggs in the most interesting way. They release the egg stream around their rotating body, creating a coil or tube-like mass. They then dive into the sediment placing an anchor so the eggs, above, won't wash away.
We are very interested in learning what this species is feeding on, so if you are able to collect a few, I am very interested. Thanks in advance.
Dave Behrens
Gig Harbor, Washington
Mar. 2009

---
Tracy Clark at La Jolla Shores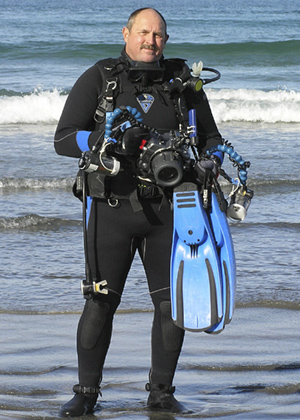 Tracy Clark was certified in 1986, a month after being certified he rented a underwatercamera in Hawaii and was hooked. Tracy is a Public Works Lead Worker . He dives mostly San Diego areas, plus a few trips to Hawaii. He has placed in the PCUPC photo contest, and also the San Diego Unions Nature and Eye photo contest. He has had photos published in the Pacific Diver magazine, Espacio Profundo, and also Helmut Debelius's Nudibranchs of the World. Tracy was San Diego Underwater Photographic Society (SDUPS) Photographer of the Year in 1999 and and again last year in 2008!

Tracy as you all know has been a prolific contributor to the Slug Site through the years!

Tracy's underwater photograhy equipment includes a Nikon D-70, Sea & Sea housing, two YS-90 strobes.

Send Tracy email at tracyc1@cox.net

---
From left to right, Terry Gosliner, Angle Valdes, Dave Behrens La Jolla, Calif.

Send Dave email at dave@seachallengers.com

---
© The Slug Site, Michael D. Miller 2009. All Rights Reserved.

---