Cuthona concinna
Photo courtesy of Jan Kocian

Cuthona concinna (Alder & Hancock, 1843)

Jan has come across one of those really rare species on this coast; it is more common in the Atlantic. In fact, Jan's observation here is the most southern record of this species, which was previously known only to Vancouver Island, British Columbia. Cuthona concinna is a very plain species, as noted by its Latin name, concinna for "neat and plain." It has a yellowish white body, and brown ceratal cores. The ceratal tips and rhinophores are encrusted with white. Specimens reach about 15 mm in length and feed on the hydroid, Sertularia.
Good show Jan.


Dave Behrens
Gig Harbor, Washington
Mar., 2009

WEBMASTER'S NOTES : As most of you know, Jan has been a prolific contributor to the Slug Site! Jan combines his skills as an underwater photographer/naturalist with cartoon artistry that is unmatched in my humble opinion. The following are shows that were presented in BOW 612 and are being presented again for those of you that missed them at that time! Both are Flash files that require an FLV file player. The first show is a selection of images (16.5 megs) taken by Jan in the Whidbey Island area. The second is a show Jan and I collaborated on. The title is Sea Slug Sex (8.5 megs. Enjoy!
Michael Miller
San Diego, CA
Mar. 2009

---
Jan Kocian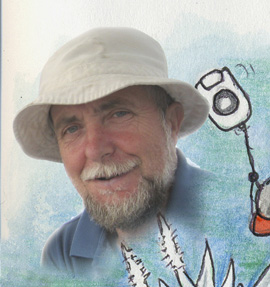 I was born in landlocked Czechoslovakia, but diving became my love early in life, getting my certification in the fresh cold waters of old quarry, before wet suits were available to the diving public behind the " Iron Curtain ".

After emigrating from there in 1968, the sea stayed close to my heart. I worked on research ships in the Pacific, enjoying the warm waters of the tropics for many years.

Not until I retired to Whidbey Island in Washington State I started to pay closer attention to the smaller creatures of the underwater world. And what a wonderful realm it is. After caves, wrecks and grand vistas, I am just beginning to discover the beauty of macro world.

My camera rig consists of a Nikon Coolpix 5400 digital camera with a sometimes working Ikelite Strobe.

Send Jan email at honkoc@hotmail.com
---
From left to right, Terry Gosliner, Angle Valdes, Dave Behrens La Jolla, Calif.

Send Dave email at dave@seachallengers.com

---
© The Slug Site, Michael D. Miller 2009. All Rights Reserved.

---