Catriona richettsi


Photo courtesy of Brenna Green
San Clemente Island, California

Catriona richettsi Behrens 1984

Well, I haven't seen this guy in years. Thanks to Brenna , we know it's still around.
I named the species after Edward "Doc" Ricketts, featured in the John Steinbeck novels: Cannery Row and Sweet Thursday. But Doc was a real person also, and a talented author. His most noteworthy marine biological works were, Between Pacific Tides and The Log from the Sea of Cortez. His most noteworthy, scholarly work was – An Essay on Non-teleological Thinking.
Depending on locality and food, Catriona rickettsi varies in ceratal coloration from yellow to orange, pink, red-brown, burgundy and brownish-green. A lighter color band is found apically on the cerata. The rhinophores and head tentacles are yellow to orange, with white terminally.
This species feeds on hydoids and grows to about 15 mm in length. Its recorded range is from the Umpqua River in Oregon, south to Punta Eugenia, Baja California, Mexico.
It seems only fitting to run this species only a week after the birthday of one of Doc's most admired scientists – Charles Darwin.


Dave Behrens
Gig Harbor, Washington
Feb., 2009

---

Brenna doing intertidal nudibranch
photography at Pigeon Point, California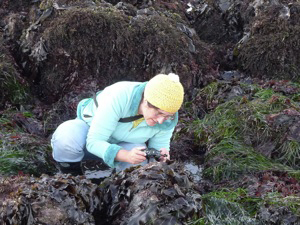 I was certified in Monterey Bay in June 2006, but didn't notice my first nudibranch until a few months later, while on vacation in British Columbia. I searched the ID book to find my slug (a Cadlina luteomarginata), and I've been looking for nudibranchs ever since. The obsession didn't really hit, though, until I started to visit my local tidepools to look for and photograph nudibranchs in early 2007. I finally combined my love of diving, photography, and nudibranchs, picking up a Canon G9 and an OEM housing for a trip to the Channel Islands in July 2008, and began to photograph nudibranchs underwater.

I currently dive most weekends in Monterey or Carmel, unless it's low tide, when instead I'll be at the other end of the bay, searching for and photographing tiny nudibranchs in the intertidal north of Santa Cruz with a Canon XSi, 100mm macro lens & ring flash. I still use the G9 underwater, but now with a single Sea&Sea YS-90 strobe.
---



From left to right, Terry Gosliner, Angle Valdes, Dave Behrens La Jolla, Calif.

Send Dave email at dave@seachallengers.com

---
© The Slug Site, Michael D. Miller 2009. All Rights Reserved.

---