Babakina festiva

Photo courtesy of Mike Bartick
Point Loma, San Diego, Calif
Jan. 2009

Babakina festiva(Roller, 1972--revisited)
This genus was named to recognize the contributions of Japanese slugmaster, Dr. Kikutaro Baba (see links BOW 632 and BOW 633 for information about the wonderful man). It is truly one of the most colorful aeolids in the Eastern Pacific.
The genus contains three other species, Babakina caprinsulensis, Miller, 1974, from New Zealand, Babakina anadoni (Ortea, 1979) from Spain and Babakina indopacifica , Gosliner, Gonzales-Duarte & Cervera, 2007 , which is widely distributed throughout the Indo-Pacific, from Madagascar to southern Japan and Hawaii. All four species have the rhinophores joined at the base. You can clearly see the perfoliate morphology of the rhinophores in Mike's photo above.
To some degree, all four have similar color themes, with a white patch on the head, banded head tentacles and cerata. The cerata are arranged along each side of the body in all four as well.
All four species are somewhat rare within their ranges and therefore virtually nothing is know about their biology.
The genus was originally named, Babaina Roller, 1972, but this name was all ready in use for another group of animals, thereby requiring it be replaced by Babakina Roller, 1973.
Dave Behrens
Gig Harbor, Washington
Jan., 2009

---
Peri, Scott, Mike, and Kevin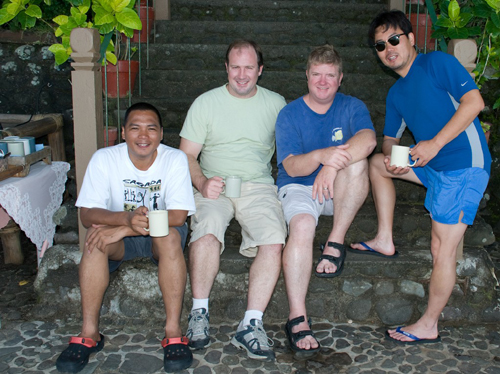 Peri Paleracio, Scott Gietler, Mike Bartick, and Kevin Lee are seen in between dives at Club Ocellaris, Anilao, Batangas, Philippines For anyone that is interested. Mike has an article, column really that has been picked up by http://www.divephotoguide.com/articles/going_nudi_in_california__part_i

It is called "Going Nudi in California". It talks about....no... not diving nude! but finding the Nudibranchs that reside in California waters. As the article progresses it will cover all different types of the varied behaviors and the different types of Nuds found here. Ranging from Baja to the Pacific Northwest I will be on the hunt=). While some of the photo's will be the usual suspects for us, they are unusual for many others that don't reside here. Of course the rare nudi's we find will be special feature's.

Mike Bartick
Jan. 2009


Send Mike email at Mike@Saltwaterphoto.com

---
From left to right, Terry Gosliner, Angle Valdes, Dave Behrens La Jolla, Calif.
---
© The Slug Site, Michael D. Miller 2009. All Rights Reserved.

---