Phyllodesmium kohleri

Photo courtesy of Kevin Lee
Anilao, Batangas, Philippines
Oct., 2008

Phyllodesmium kohleri , Burghardt, Schrodl and Wagele, 2008

Erwin Kohler
Darmstadt, Germany
Erwin at the Maldives, 1999

Just recently, one of the coolest Phyllodesmium's has been named recognizing good friend Erwin Kohler ,webmaster of the Opisthobranchs of the World and also Medslugs, a website devoted to Opisthobranchs of the Mediterranean. This amazing Phyllodesmium first came to our attention some time back with a posting by Gary Cobb from Australia.

The cerata are what make this species amazing. Translucent white, you can see the highly branched digestive gland within. The surfaces of the cerata are covered with pointed tubercles, separated by reticulating white lines.

Like other members of this cryptic subgroup, which includes Phyllodesmium jakobsenae and Phyllodesmium rudmani , it feeds on xeneid soft corals.
John Greenamyer of Running Springs, Calif was kind enough to contribute a video of P. kohleri .
Reaching 20 mm in length this species is known from Australia, Indonesia, the Philippines and Japan.


Dave Behrens
Gig Harbor, Washington
Dec., 2008

WEBMASTER'S NOTES: Erwin is well deserving of the honor accorded above. Since I first came into contact with Erwin some years ago, his untiring efforts to bring to the Web some sense of order and understanding of sea slugs have always amazed me. Kudos are indeed in order for Erwin who has also been a frequent contributor to this site. If you are reading this Erwin, I still have and wear with distinction, the sea slug T-Shirt you gave me at Frankfurt, Germany some years back!


Mike Miller
San Diego, CA
Dec. 2008

---
Peri, Scott, Mike, and Kevin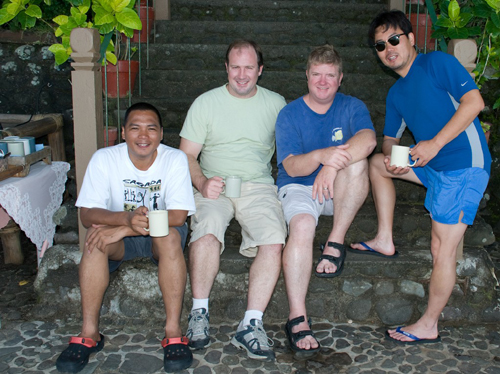 It was hard to return home after 11 days in nudibranch heaven in the Philippines, known more formally as Anilao. Mike Bartick, Kevin Lee and myself had heard good things about Anilao, but we didn't know what to expect. Club Ocellaris supplied us with great food, nitrox, and a good night's sleep. The diving was much better than we could have imagined.

With the help of expert dive guide Peri Paleracio, 3 of us were able to photograph 100 species of nudibranchs during our trip. These species were found everywhere, from 0-130ft deep, in sand, muck, rock, corals and reef. I have no doubt many more species await us on our return trip.

Scott Gietler
Nov. 2008


Send Kevin email at klq77@hotmail.comm

---
From left to right, Terry Gosliner, Angle Valdes, Dave Behrens La Jolla, Calif.
---
© The Slug Site, Michael D. Miller 2008. All Rights Reserved.

---