Colpodaspis thompsoni
Seraya Beach, Bali, Indonesia
Photo courtesy of Christiane Waldrich

Colpodaspis thompsoni Brown, 1979
I came across my first specimen of this tiny and unique diaphanid cephalaspidean while diving the very northern shores of Manado, northern Sulawesi, Indonesia. My dive guide from the Kima Bajo Resort was frantically pointing at the muck bottom trying to get me to see this minute critter, but I just wasnít seeing it. Finally he picked it up and placed it in his hand so this old four-eyed guy could see it. I was blown away.
Christaine didnít need a dive guide to find this specimen. They are common off the house reef at 'Villa Markisa' .
This species is easily recognizable by its strange shape and the white and yellow patches on the notum that resemble fried eggs.
It is generally found on the underside of coral rubble. Nothing is known with regard to its feeding behavior or other aspects of its biology.
It reaches 3 mm in length. Originally described from Tanzania, it is widespread in the Indo-Pacific from the western Indian Ocean of Tanzania and Madagascar and the Red Sea, throughout the western Pacific eastward to the Hawaiian Islands.
Dave Behrens
Gig Harbor, Washington CA
Sept.. 2008

---
Christiane Waldrich at Seraya Beach
Photo courtesy of David Lim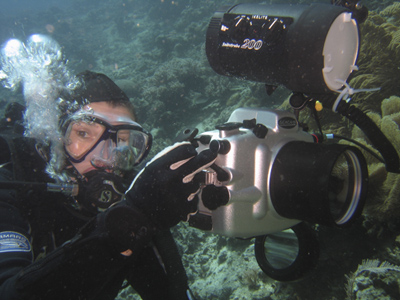 Christiane hails from Munich, Germany but spends most of the German winter at Villa Markisa in Bali, Indonesia. She is an accomplished underwater photographer with a focused interest in Opisthobranchs. Her species list now exceeds 250 in number and growing every dive. Not bad for a shore frontage of less than fifty yards!

Camera wise Christiane is shooting a Nikon D-100 in a SeaCam housing with admirable results. She is very adept at finding the very small nudibranchs. What was really amazing was her ability to photograph sea slugs with neutral buoyancy irrespective of the heavy camera weight. Very impressive indeed!

Christiane found the famous critters dive site 'Seraya Secrets' in 2003. She is in the final stages of building her her own resort 'Villa Markisa' just on the beach of Seraya Secrets in 2006 with her business partner Pedro. The resort is expected to open in the very near future!
Send Christiane email at christiane@villa-markisa.com
---
Taxonomic information courtesy of:



---
© The Slug Site, Michael D. Miller 2008. All Rights Reserved.

---