Eubranchus ocellatus
Seraya Beach, Bali, Indonesia
Photo courtesy of Christiane Waldrich

Eubranchus ocellatus (Alder & Hancock, 1864)
Well Christaine has landed another beauty, off the house reef of Villa Markisa. This spectacular animal is identified by the inflated cerata with steeped bands with large brown rings. The rhinophores are smooth. A narrow digestive gland duct can be seen with the transparent cerata. This hydroid eater reaches about 20 mm in length. In addition to Christaine's house reef in Tulamben, Indonesia, it is known from Tanzania, the Red Sea, the Philippines and New Caledonia.
Enjoy also a short Flash Clip Flash Clip taken by the Webmaster during a visit to Seyara Beach in Jan. 2007.
Dave Behrens
Gig Harbor, Washington CA
Sept.. 2008

---
Christiane Waldrich at Seraya Beach
Photo courtesy of David Lim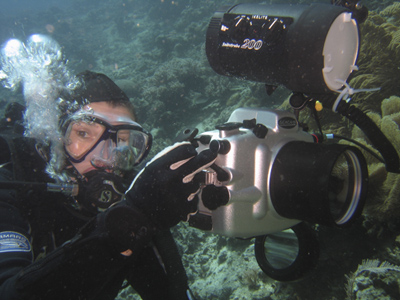 Christiane hails from Munich, Germany but spends most of the German winter at Villa Markisa in Bali, Indonesia. She is an accomplished underwater photographer with a focused interest in Opisthobranchs. Her species list now exceeds 250 in number and growing every dive. Not bad for a shore frontage of less than fifty yards!

Camera wise Christiane is shooting a Nikon D-100 in a SeaCam housing with admirable results. She is very adept at finding the very small nudibranchs. What was really amazing was her ability to photograph sea slugs with neutral buoyancy irrespective of the heavy camera weight. Very impressive indeed!

Christiane found the famous critters dive site 'Seraya Secrets' in 2003. She is in the final stages of building her her own resort 'Villa Markisa' just on the beach of Seraya Secrets in 2006 with her business partner Pedro. The resort is expected to open in the very near future!
Send Christiane email at christiane@villa-markisa.com
---
Taxonomic information courtesy of:



---
© The Slug Site, Michael D. Miller 2008. All Rights Reserved.

---