Whidbey Island, Washington
Satellite image courtesy of Earth Google Pro of the Whidbey Island, Washington area

Jan Kocian
This week's bow was put together in recognition of Jan Kocian , a resident Whidbey Island u/w photographer, naturalist, and cartoonist who combines all three disciplines to portray marine biology via the electronic cartoon which certainly reinforces the old saying that" a picture is worth a thousand words." Alan Grant and myself have been traveling up to the Canada and Whidbey Island the last couple of years to dive with Jan in his "back yard." The water is always cold and visibility limited, but boy, was there a lot of subject matter for our HD CamCorders! Alan and I are forever in Jan's debt for sharing his under water world with us!
In tribute to Jan and his many contributions to the Slug Site, two short shows has been prepared for your viewing pleasure. Both shows are presented in Flash format (flv) so you will need a player to see them. For those of you who don't have a player (PC Platform), a shareware version is available at download.com
The first show is a selection of images (16.5 megs) taken by Jan in the Whidbey Island area. The second is a show Jan and I collaborated on. The title is Sea Slug Sex (8.5 megs. Enjoy!
Michael Miller
San Diego, CA
Aug. 2008

---
Jan Kocian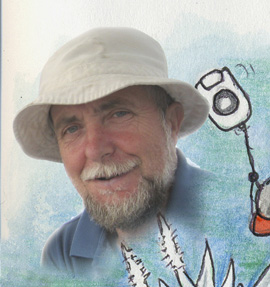 I was born in landlocked Czechoslovakia, but diving became my love early in life, getting my certification in the fresh cold waters of old quarry, before wet suits were available to the diving public behind the " Iron Curtain ".

After emigrating from there in 1968, the sea stayed close to my heart. I worked on research ships in the Pacific, enjoying the warm waters of the tropics for many years.

Not until I retired to Whidbey Island in Washington State I started to pay closer attention to the smaller creatures of the underwater world. And what a wonderful realm it is. After caves, wrecks and grand vistas, I am just beginning to discover the beauty of macro world.

My camera rig consists of a Nikon Coolpix 5400 digital camera with a sometimes working Ikelite Strobe.

Send Jan email at honkoc@hotmail.com
---
© The Slug Site, Michael D. Miller 2008. All Rights Reserved.

---