Aegires minor
Taken in Lembeh Straits, North Sulawesi, Indonesia
Photo courtesy of Dick Gamble and Juli Tracy


Aegires minor Eliot, 1904
As is often the case, the really outstanding attributes of the above image were not discovered until Dick Gamble began reviewing his pics from a recent Lembeh Straits trip! What were all these smaller blips of yellow in the picture? Upon close examination and reflection, Dick came to the correct conclusion that blips in question were in fact offspring of Aegires minor . Hey, wait a second most readers are thinking! I know this guy as Notodoris minor . After all, the field guides refer to Notodoris minor . Well, Fahey and Gosliner felt back in 2004 that the animal more properly belongs in the genus Aegires . Enough said on this matter! Getting back to the image, it is possible to see the adult form of A. minor , the juvenile form, and the food source. Mary Jane Adams has posted an image on Bill Rudman's Sea Slug Forum that depicts the actual egg mass laying process. The egg coil in Mary Jane's photo show large yolky eggs typical of direct development species. Another posting by Mary Jane displays A. minor actively feeding with interesting commentary by Bill Rudman.
What I find most interesting about Dick's image is the Prima facie evidence that direct development is taking place, i.e. the young come out of the egg casing ready to assume the life of A. minor . All that is missing from Dick's pic is the actual egg mass itself somewhere in the vicinity. It is very evident that both the Adult and the juveniles were drawn to the same food source (unknown to the Webmaster). The direct development aspect of this presentation is of course still speculative. The final determination will of course be left to the "experts."
Hey, what the heck! It makes an interesting story!
REFERENCES
Fahey, S. J. & Gosliner, T. M. (2004) A Phylogenetic Analysis of the Aegiridae Fischer, 1883 (Mollusca, Nudibranchia, Phanerobranchia) with Descriptions of Eight New Species and a Reassessment of Phanerobranch Relationships. Proceedings of the CaliforniaAcademy of Sciences, 55, (34): 613–689, 82 figs., 4 tables (Appendix).
Michael Miller
San Diego, CA
Aug. 2008

---
Dick Gamble and Juli Tracy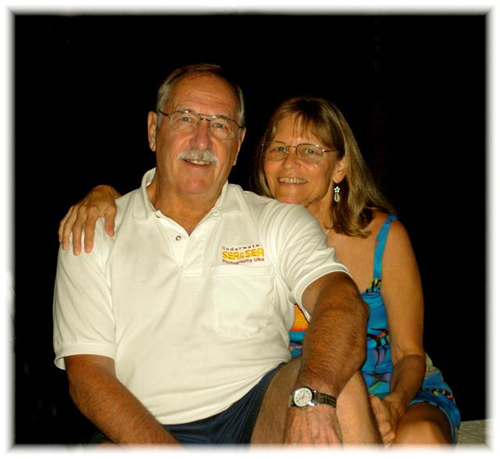 Dick Gamble and Juli Tracy have been shooting u/w around the world for 22 years. They started with a home-made Plexiglas box housing cheap still cameras and over the years progressed to better equipment as their skills dictated. Dick currently shoots with a Nikon D-200 in a Sea & Sea housing with dual Sea & Sea YS-110 strobes. Juli shoots with a Sea & Sea Dx1G with dual YS-27 strobes.

Dick has been published in many photo and diving magazines, internet websites and has won U.S and international awards for his u/w photography. Both are long time members of the San Diego Underwater Photographic Society (SDUPS).

Send Dick email at RAGamble@san.rr.com

---
© The Slug Site, Michael D. Miller 2008. All Rights Reserved.

---