Ceratosoma sinuatum
Lembeh Straits, Indonesia


Photo courtesy of Dave Behrens

Ceratosoma sinuatum, (van Hasselt, 1824)
This species is one of those that comes in just about every color imaginable. We bumped into this pretty boy during my Sulawesi Coral Reef Ecology workshop on a dawn dive on the house reef of the Lembeh Resort. My photos were terrible, but Tania got a great shot.
Sometimes specimens sitting right next to each other can be a different as day and night. This photo by Constantinos Petrinos is from Nudibranch Behavior book, really illustrates this variability well. Undersea Jewels shows three colors including a dark avocado green specimen and a mauve variation. Mike's week 377 BOW shows a brilliant green specimen.
This was one of 100 species workshop participants got to see close up and personal. We'll be doing the 10 day experience again next June if you are interested.
C. sinuatum reaches 45 mm in length, feeds on sponges, and has a widespread geographic range, being found throughout the Indo-West Pacific from Africa to Hawaii and Japan.
Dave Behrens
Gig Harbor
Jul., 2008

---
Tania gives a pre-dive briefing to Matt Weiss of DivePhotoGuide.com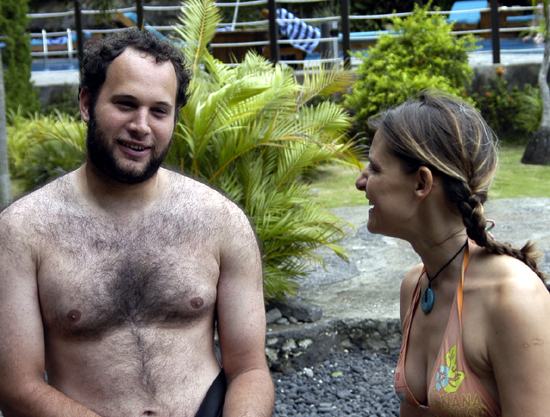 Tania made a nice career in the Private Banking sector in Luxembourg, where she was working for one of the biggest Dutch banks, until she decided to change her life style and follow her dream: travelling and diving! That was in 2003.

Tania started diving in 1993 and ever since Tania has dreamed of becoming an instructor! Tania did her courses spread over the years, as well in cold as in tropical waters. Her first destination to start working as an instructor was Puerto Galera, Philippines. Furthermore she has worked in the Lhaviyani atoll in the Maldives, in Busuanga which is in Palawan, Philippines, and for a short period in Egypt. In all these jobs she did both instructing and guiding dives. And in some she also gained some experiences in managing a dive center.

Tania arrived in Lembeh Strait on March 1st, 2008 and started managing the dive center April 1st.
Tania loves critter diving, photography and marine biology … Tania is definitely in the right spot at Lembeh ! On top of that she met many very interesting people here at Dave's course, We had an amazing good crew to manage and the resort is like a small paradise ! What more could one ask for ?

Send Tania email at taniavaert@yahoo.com

---
Taxonomic information courtesy of:



---
© The Slug Site, Michael D. Miller 2008. All Rights Reserved.

---