Favorinus sp.
Photo courtesy of Dave Behrens

Mar., 2008

Last October's Malaysia Expedition was extremely rewarding, providing one of the strongest Branch finding teams to explore an area given little if any scientific attention since the Expedition of Rudolph Bergh in the late 1800ís. Bergh collections were all by trawl net.
One of the 34-35 new species found on the trip was this beautiful Favorinus . It is entirely distinct from other species in this genus. The elaborate rhinophores are the first giveaway. This places the species in the genus Favorinus for sure. Then come the amazing cerate, group on distinct slender ridges. Each ceras has a brown mid-section, followed by a band of white specks near its end and is tipped in brown. There are opaque white patches on the dorsal surface between the ceratal clusters, and a delicate reticulated orange line connecting each ceratal ridge along the body to the rhinophores and head tentacles. This line ornaments the edge of the foot also.
We really know nothing about the species. Keep you eyes open for it the next time you are diving the South China Sea.
Dave Behrens
Gig Harbor, Washington
April, 2008

---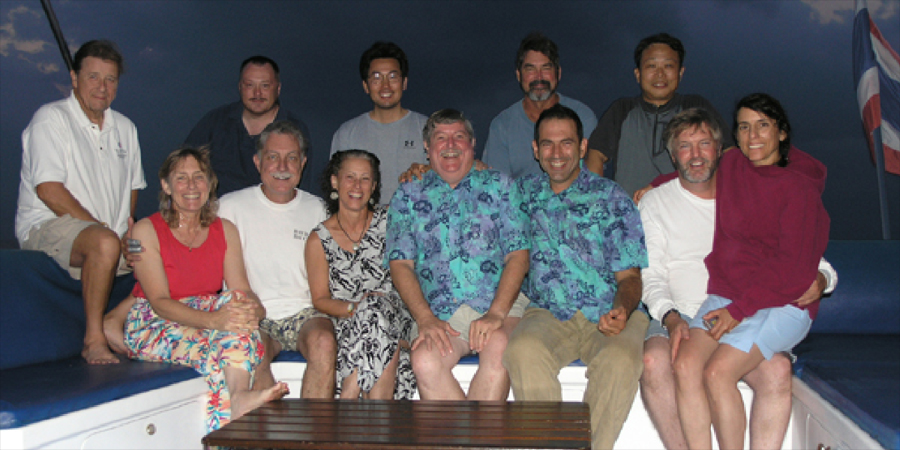 Jerry Allen Jeff (UK) Kevin Lee Jeff Hughes Dr Dong Koh (So. Korea) Terry Schuler Me Laura Losito Terry Gosliner Con (Athens) Bruce & Johanna Wight
---
Team members surround Dave at onboard debriefing

---
© The Slug Site, Michael D. Miller 2008. All Rights Reserved.

---