Cuthona abronia
Photo courtesy of Kenneth Kopp
Feb., 2008

Cuthona abronia , MacFarland, 1966

A group of SoCal Nudi hunters had scheduled a Saturday Nudi-peeping trip to some prolific grounds in San Diego. Weather was coming in, and Friday morning the boat canceled. We need needed a fall back plan.
Sad but not discouraged, I made some calls, and soon my buddy and professional Nudi spotter, Claudette Dorsey and I were booked last minute on the dive boat "Spectre" to Anacapa Island.
The weather was excellent for the morning dive, but was moving in quickly for the second dive, so we tucked into the far west side of the island at a spot named "Rat Rock." On that second dive, we saw 15 species of Nudis - most all of them very, very small. It was like watching a Tiny Tunes episode - where all of your favorite and familiar cartoon characters are now smaller and rounder! Tiny little Hermissendas, tiny little Trophia maculatas, tiny little Trilineatas, tiny little Sandiegensis and many more - including a new one for me: Ancula gibbosa.
The boat quickly moved to "Goldfish Bowl" for dive three. We splashed and saw many more Nudis, and near the very end of the dive Claudette called me over to see something. It was impossibly small - maybe 1/8" or less. The surge was coming up pretty fierce, and the little guy was flapping on the fuzz. The shots are a little crispy - but you can see the features clearly enough to identify it. The problem is I can't identify it... Who is this patriotic red, white and blue mystery Nudi?
Local consensus is its some kind of Cuthona . Claudette called me Saturday night after the dive to proclaim yankee doodle as a Cuthona abronia . I laughed her off, dismissed her proclamation and sent a shot of the critter to Michael Miller and David Behrens. David quickly wrote back, and said, "Great stuff. The Red, White and Blue guy is a weird colored Cuthona abronia . Very nice."
Guess I laughed too quickly.
So the tally for the day: 3 dives, hundreds of Nudis, 21 distinct species, including TWO new ones for us. No a bad fall back trip, after all!
WEBMASTER'S NOTES:
Yes, not a bad trip at all! Going out on a boat trip for the express purpose of finding sea slugs would have been unheard of when the Webmaster started diving (late 70's)! I love stories like the one above and Ken is one of the premier story tellers! When Ken first sent this image in, I was amazed at the clarity and resolution considering the size of the subject (estimated 1/8"). Absolutely amazing! Believe me folks, a whole new seascape is being opened up with the help of underwater photographers like Ken who have taken on the challenge of extreme macro photography! Once again our hats are off to Ken and crew for sharing their sea slug adventures!
__________________________


Kenneth Kopp
Feb., 2008

---
Kenneth Kopp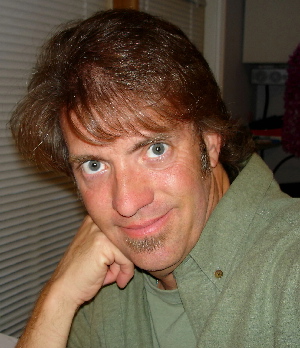 Diving since 1999. Currently doing about 260 local dives a year. Favorite Nudibranch dive is Marine Land, Palos Verdes, CA. We routinely see 12 - 14 species on a single dive there.

Got my first camera in 1974. Been shooting digital exclusively since 1998. Been shooting underwater about 3 years (mostly P&S Olympus and Sony.) Moved to the current DSLR (Nikon D200 / Ikelite rig) about 9 months ago.

Writer and Marketing executive by profession. When I'm dry, I'm usually fly fishing or pounding and shaking things as a working drummer & percussionist.

Married, no kids. We have three house Rabbits. Yeah - its weird for me, too.

See more of Ken's work at http://www.divematrix.com/gallery/showgallery.php/ppuser/3/cat/500

Send Ken email at ken@divematrix.com

---
© The Slug Site, Michael D. Miller 2008. All Rights Reserved.

---