Phyllodesmium longicirrum

Photo courtesy of Dave Behrens

Phyllodesmium longicirrum (Bergh, 1905)
Well it has only taken me the better part of my life, but I finally had the opportunity to dive the amazing waters of the Sulawesi Province in Indonesia. Many of you have shared tales of these rich waters, and the great diversity of species living there. My trip was just as rewarding – Three species of Pygmy seahorse, numerous Scorpionfish, including Weedy, Paddle-flap, Leafy and Devilfish. The Frogfishes were amazing. And that is just my fishy first. The invertebrate list is even longer.
Little did I expect to see sea slugs species, a few of which my international renowned Brancher buddy, Dr. Terry Gosliner, had yet to experience in person. Of all the spectacular nudibranchs around the globe, Terry and I had never seen the solar-powered aeolid, Phyllodesmium longicirrun . It is not because the species is so rare. Heck most of you have your own photos of it. And it's huge to boot, reaching 120 mm in length. How could you miss that?
This has always been one of my favorites species, due to its ability to sequester and farm the by-products of living zooxanthellae that this species acquires when feeding on its favorite substrate the soft coral, Sarcophyton. In Constantinos Petrinos' close-up in Nudibranch Behavior you can clearly see the ramifications of the digestive glands , through which the symbiotic zooxanthellae are transported, and their nutrition by-products of photosynthesis, is returned to be utilized by the slug.
Although my photo above des not really show my elation in finally seeing this critter up front and personal, it does depict how the species spreads its cerata to field maximum sunlight on shallow reef flats.
I am returning to Sulawesi again this summer. This time it is to facilitate a 10 day reef ecology workshop. Five days will been within the Lembeh Straits, at the Lembeh Resort , and five days in the Bunaken National Park, at the Minahasa Lagoon Resort .
You are all invited. You are welcome to a promotional brochure and a more detailed agenda as seen below.
Who knows what we will find this trip????


Dave Behrens
Gig Harbor, Washington
Feb., 2008

---
Dave is definitely "over the top" as seen in this recent pic taken by Dave's daughter, Samantha, while diving Bunaken Island, Sulawesi, Indonesia.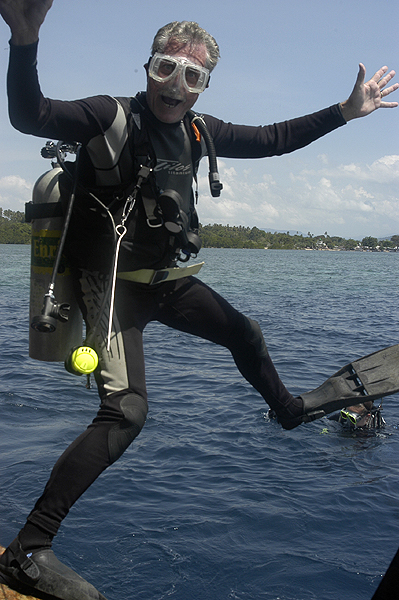 Indonesia's Amazing Marine Creatures –
"Close Up & Personal"
with
Dave Behrens


June 13 – 18 = 5 nights & 11 boat dives at Minahasa Lagoon Dive & Tours Club
June 18 – 23 = 5 nights & 11 boat dives at Lembeh Resort
 

Day 1; June 13: - Arrive and transfer to Minahasa Lagoon Dive & Tours Club - dive gear ready. PM intro/welcome/what to expect during the workshop.
Day 2; 2 morning boat dives, Habitat A – afternoon lecture/discussion; night dive available
Day 3; 3 dives at Bunaken National Park; Habitat B – evening lecture/discussion.
Day 4; 3 dives at Bunaken National Park; Habitat C – evening lecture/discussion.
Day 5; 3 dives at Bunaken National Park; Habitat D – evening lecture/discussion. During dinner performance by local dancers
Day 6, June 18; land tour to Tomohon Village for local market and cultural highlights; lunch at Gardenia Country Inn; transfer to Tangkoko National Park; arrive Lembeh Resort for dinner
Day 7; 2 morning boat dives; Habitat E – afternoon lecture/discussion and microscope work; dusk dive or night dive.
Day 8; early morning house reef dive to witness reef "coming alive". 2 morning boat dives; Habitat F – afternoon lecture/discussion. Dusk dive or night dive
Day 9; 2 morning boat dives - Habitat G - and 1 afternoon dive; Dusk or night dive. Informal discussion only
Day 10; 2 morning boat dives;– afternoon lecture/discussion; Village tour available. Singing performance for evening during dinner
Day 11; June 23 – morning Wrap Up; transfer to airport.


At each resort dive location, we will choose two dive sites at each habitat type ie. muck, reef, grass etc.


Afternoon discussions will include review of days observations, identifications, explanations of behaviors observed and microscope work when possible.
Evenings will be a mix of free time, night dives and cultural activities ie. Local dancers & singers, pottery demonstrations, cooking lessons etc


Total for 10 nights / 11 days all inclusive with diving – $2,733 Not included is Bunaken Park Tag +- $18. or airfare .

E-mail Dave for specific program details: dave@seachallengers.com
Send Dave email at dave@seachallengers.com

Contact your favorite Dive Travel Wholesaler for flights and booking information.
Feel free to ask us any questions or logistic details at email listed below.
Extension Nights Available At Each Resort


---
© The Slug Site, Michael D. Miller 2008. All Rights Reserved.

---