Emarcusia morroensis
Photo courtesy of Kenneth Kopp
Dec., 2007

Emarcusia morroensis , Roller, 1972

The other night professional Nudi spotter, Claudette Dorsey and I were diving Veterans Park in Redondo Beach, CA with another buddy, Ross Overstreet.
I had heard that the conditions were excellent the last several nights, so I was pretty excited to get in with the Scooters and the camera and see what the ocean had to offer. Little did I know it was going to be Nudi night at Vets!
We saw 10 species on that dive - including a little mystery Nudi I'd never seen or shot before.
Near the end of the dive, at about 50 FSW Claudette brought over a little whiteish Nudi. In fact, it was so tiny I never really gave it a second look - figuring it was a BC Aeolid, or a Pricei or maybe a tiny Hermissenda. It was on a stick when she brought it over, but it soon fell off. I fired off three very quick pictures (one on the stick and two as it was falling through the water) and we moved on and finished the dive.
In the parking lot after the dive, Claudette looked at me and said, "what was that last Nudi - the small one?" I looked at her and said, "I was hoping you'd know..." We both had no idea what it was. When I got home I grabbed "the book" (3rd edition EP Nudibranchs) and started hunting. I narrowed it down to about 3 or 4, but couldn't come up with a winner. Claudette eMailed me her candidates, but we couldn't come up with a definitive selection.
As usual, I posted pictures from the dive in my dive report on DiveMatrix.com I figured one of our members would know what this little guy was. Within about half-an-hour Scott Gietler, a Dive Matrix member (and frequent BOW contributor) sprung into action. After seeing the post he sent my photos to David Behrens. A few hours later, David got back to Scott, stating the mystery Nudi is a Emarcusia morroensis . David went on to state, "Wow – this is Emarcusia morroensis (page 119 of Eastern Pacific Nudibranchs). Extremely rare. I, personally have never seen it. Great find."
So with the help of three divers that night, another diver on land, an author, an internet posted dive report, eMailed photographs, swift responses - the mystery of my mystery Nudi was solved in less than 24 hours. Gotta love the online dive community! This is the first Emarcusia morroensis I've ever shot, and I'm pretty excited to add another Nudi to the collection.
Webmaster's Notes Well once again, Ken has demonstrated what a "can do group" the bunch up in LA is! Hummmm, come to think about it, I've never seen it either! Great work Ken and friends! __________________________


Kenneth Kopp
Dec., 2007

---
Kenneth Kopp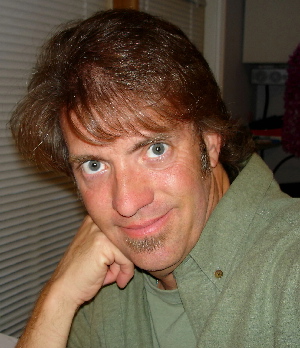 Diving since 1999. Currently doing about 260 local dives a year. Favorite Nudibranch dive is Marine Land, Palos Verdes, CA. We routinely see 12 - 14 species on a single dive there.

Got my first camera in 1974. Been shooting digital exclusively since 1998. Been shooting underwater about 3 years (mostly P&S Olympus and Sony.) Moved to the current DSLR (Nikon D200 / Ikelite rig) about 9 months ago.

Writer and Marketing executive by profession. When I'm dry, I'm usually fly fishing or pounding and shaking things as a working drummer & percussionist.

Married, no kids. We have three house Rabbits. Yeah - its weird for me, too.

See more of Ken's work at http://www.divematrix.com/gallery/showgallery.php/ppuser/3/cat/500

Send Ken email at ken@divematrix.com

---
© The Slug Site, Michael D. Miller 2007. All Rights Reserved.

---