Dendrodoris rainfordi
Koh Sark, Chonburi Province, Thailand
Photo courtesy of Lawrence Neal
Depth 12 meters
Water temp 26 C

Dendrodoris rainfordi Allen, 1932
This species is one of several flamboyantly colored porosomes of the family Dendrodorididae . It is easily distinguished by its ruffled margin with lavender-blue marginal line, and distinctive brown circles covering the smooth dorsum. Although the critter shown above was only about 30 mm, specimens can measure up to 170 mm in length.
A fairly rare species Lawrence has found it several times now, on silty bottoms in the sheltered bay of the northern Gulf of Thailand.
This species is one of the exciting finds in the newly released "Nudibranchs of the World" by Helmut Debelius and Rudie Kuiter. Their new book contains over 2500 color photos of about 1180 species.
Dave Behrens
Gig Harbor, Washington
Dec. 2007

---
Lawrence at Tulamben, Bali, Indonesia with
Agung Volcano in background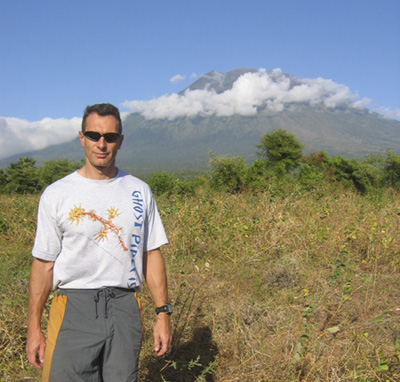 Koh Sark is a small island just a few minutes out of Pattaya, Thailand's renowned resort destination on the Gulf of Thailand. Fronting this island is a shallow, sheltered, virtually current-free bay where a great many divers have taken their first open water dives and received their entry level dive cards. Unbeknownst to most of these divers, this bay also happens to be one of the better muck-diving destinations in Thailand, with sea horses, sea moths, various species of crustaceans and mollusks, including... yes, you guessed - nudibranchs.

My most frequent sightings in the area include Jorunna funebris, Risbecia tryoni, Chromodoris aureopurpurea, Mexichromis tuberculata, Dendrodoris denisoni and Flabellina rubrolineata, with an occasional Melibe mirifica veiled nudi or Bursatella leachii sea hare thrown in. Then one day in February 2007 along came a spectacular 'pink-purple skirted' slug with rather bushy gills, thick rhinopore clubs and a bizarre brown occellated pattern like nothing I'd ever seen before.
Back at home, fruitlessly searching through books and on the Net, I began to realise this could be something unusual. Finally I found reference to a seldom-seen nudibranch called Dendrodoris rainfordi on Bill Rudman's sea slug forum - with a known range limited to northern Australia.

Since then I've managed to bump into the amazing and bizarre D. rainfordi on a few occasions at Koh Sark which - judging by the number of sightings (almost zero) around the world - would make this low-profile local dive site a D. rainfordi hotspot. Just goes to show what you can find in your own backyard with a little effort.

Lawrence Neal
Bangkok, Thailand
Dec. 2007


Lawrence is a newspaper journalist based in Bangkok, Thailand. He escapes the office as often as he can to go diving in the rich waters of the Indo-Pacific but his regular dive sites are just down the road at Pattaya. The vis is usually pretty appalling and the diversity nothing like as rich as hotspots like Lembeh or Anilao, but, in his words, "that's what makes it challenging and fun".

Lawrence uses a Nikon D200 in a Nexus housing with a housed Nikon SB800 Speedlight, Inon Z240s or some combination thereof. At Pattaya his lens of choice is the 60 mm macro, "the water is much too murky for anything longer".

Send Lawrence mail at lorenzo_n@yahoo.com

---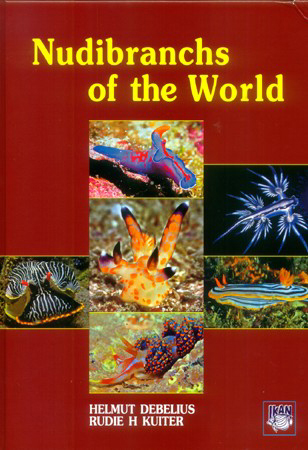 Nudibranchs of the World
1800 species of Nudibranchs
Over 2500 color photos
Huge – 8 x 10 inches – 4 lbs

Retail - $ 89.00
Airmail Shipping - $9.00 in US
$20.00 Foreign

Send Dave mail at dave@seachallengers.com

---
© The Slug Site, Michael D. Miller 2007. All Rights Reserved.

---