Dendrodoris azineae
Photo courtesy of Robert Todd
Murray Head (165 ft/50m), La Jolla Canyon, La Jolla
Canon 400D, Ikelite Housing, Sigma 17-70mm@36mm
Dual DS-125 on TTL, 1/60, f/9.0, ISO 200
Dive Leader: George Spalding III
Sept., 2007

Dendrodoris azineae , Behrens & Valdez, 2004


Although Dendrodoris azineae has already been presented before as BOW 439 , Robert and George made branch history by taking the first high resolution image of D. azinae in situ! You can especially appreciate the significance of this feat by noting the depth at which the picture was taken! Its for sure this webmaster will never see D. azinae in his life time given the depth one has to go to find this branch! Our hats are off to Robert and George for making it possible for the rest of us to enjoy this beautiful sea slug!


Michael Miller
Webmaster
Nov., 2007

---
George Spalding and Robert Todd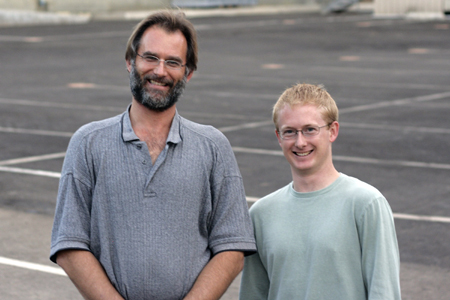 Having been snorkeling from the age of three, Robert Todd earned his first scuba certification in 1996 at the age of 12. Starting his diving at home on the wrecks of North Carolina, he also dove the Bahamas and springs of Northern Florida while in high school. As an undergraduate he continued diving in North Carolina and the Bahamas and also visited Oahu and the Kona Coast of Hawai'i.

Undergraduate research on the development of artificial reefs introduced him to the world of research diving. Certified as an AAUS Scientific Diver at NOAA's National Undersea Reasearch Center in 2004, he was able to be the first diver on a newly sunken tugboat in North Carolina, and lead dives to monitor the development of the reef.
Graduate studies at the Scripps Institution of Oceanography brought him to Southern California where he continues to participate in research diving while diving recreationally in Scripps and La Jolla Canyons, the Channel Islands, Baja California and Monterey County.

Through a long series of cameras he has been taking pictures underwater since long before he was certified to dive; now he has graduated to the digital SLR world.

Send Robert email at rtodd@ucsd.edu

---
© The Slug Site, Michael D. Miller 2007. All Rights Reserved.

---