Trapania velox
Photo courtesy of Kenneth Kopp
Sept., 2007

Trapania velox , (Cockerell, 1901)

Recently, a good friend and resident Orange County shore diver Robb Phillips sent me an eMail, telling me there were some _Trapania velox_ Nudis in his home waters, and he wanted me to shoot them. He also sent out an invite to my professional Nudi spotter and dive buddy, Claudette Dorsey to come along to keep me in line.
Trapania velox?? I have no clue - so I go look it up. AH... kinda cool, and another SoCal Nudi I've never shot. So I tell Robb I'm in, and Claudette and I set up a very early AM dive (6:45 AM) to go find these rascals and shoot them. They're a little bit off shore, so we bring along the X-Scooters to get out there quicker.
I've been having troubles with my Sync cord (fires the strobes) so I set up the cam rig the night before, fire off a bunch of test shots, and all is good. After I dress, I test the cam again - all working good. I may get some shots! The three of us take the Scooters down the stairs, out through the minor surf and we're off. At about the 14 minute mark, Robb deposits us on a rock with some red sponge on it. And sure enough, there - faithfully parked (still in "sit" command from Robb the "Nudi Whisperer") are several little white Trapania velox.
VERY COOL!!
I drop, compose, shoot. NO STROBE. Snap again. Snap again. Snap again. NOTHING. AUGH!!!!!!!!! I take a lap to cool down. I swim over to Claudette and Robb. Between the three of us we have three 21W HID Canister lights - think of a Thermos-sized battery on your waist belt with a cord going to the light head strapped on the back of your hand.
I'm thinking: even with no strobes, if I open things way up, and slow things way down, I can probably get some shots off if we put these bright dive light beams on the Nudis. Problem is we're all getting pushed around and I have light sabers slashing in and out of frame. I direct Robb and Claudette to point their two lights at the sponge, and I hand mine to Claudette. Now she's trying not to pull me off the shot by the cord attached to my waist band as the surge pulls her away from me - while she's hovering and holding her one dive light on the Nudis as well.... Imagine the circus that's going on above me.... There is significant surge, as we're pretty shallow. 3 divers with scooters clipped to them, one diver in doubles, the other holding her canister light head AND MINE (that's still attached to me) on the subjects (the big guys are about 3/8" when fully stretched out, the little one less than 1/16") while I'm moving all around the sponge looking for a shot with a huge camera rig pressed to my grill trying to brace so I can shoot something smaller than one-half an inch at 1/60th of a second in the surge by flashlight. It must have looked like three clowns swinging from a trapeze trying to perform surgery as they swing by the patient. I was cracking up.
I get some shots, we wave bye bye to the three Trapania velox and head back in. These are some true "team-effort" photos. Many thanks to Claudette Dorsey for her light support and to Robb Phillips for his find and his kind invitation. __________________________


Kenneth Kopp

Sept., 2007

---
Kenneth Kopp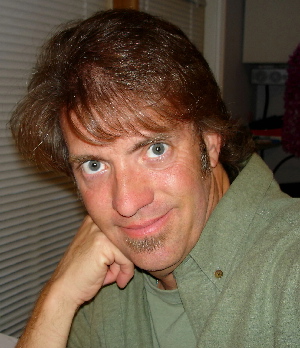 Diving since 1999. Currently doing about 260 local dives a year. Favorite Nudibranch dive is Marine Land, Palos Verdes, CA. We routinely see 12 - 14 species on a single dive there.

Got my first camera in 1974. Been shooting digital exclusively since 1998. Been shooting underwater about 3 years (mostly P&S Olympus and Sony.) Moved to the current DSLR (Nikon D200 / Ikelite rig) about 9 months ago.

Writer and Marketing executive by profession. When I'm dry, I'm usually fly fishing or pounding and shaking things as a working drummer & percussionist.

Married, no kids. We have three house Rabbits. Yeah - its weird for me, too.

See more of Ken's work at http://www.divematrix.com/gallery/showgallery.php/ppuser/3/cat/500

Send Ken email at ken@divematrix.com

WEBMASTER'S NOTES Trapania velox was already done some years ago as a BOW, but how could you pass on a story like Ken's? Just goes to show what a little ingenuity and determination can go a long way in getting that nudibranch shot you want to show all your friends. Especially one that is rarely seen!
---
From left to right, Terry Gosliner, Angle Valdes, Dave Behrens La Jolla, Calif.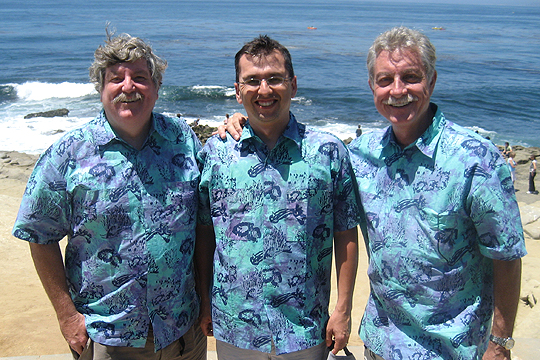 This is our custom designed and custom printed nudibranch shirt. The
shirt has six species of nudibranchs. Has short sleeves with a collar
and two pockets on the front. 100% cotton. Color: Blue & green combined.

Sizes: Small, medium, large and x-large.
Item #Nudishirt $40.00
Send Dave email at dave@seachallengers.com for your order.

---
© The Slug Site, Michael D. Miller 2007. All Rights Reserved.

---