Phyllidiopsis blanca

Photo courtesy of Scott Gietler
Olympic, San Pedro, Calif
Sept., 2007

Phyllidiopsis blanca , Gosliner & Behrens, 1988

As far as we know this is the only temperate species in the family Phyllidiidae. Very little is known about the biology of this critter, which shows up every few years. However a second photo by Scott suggests that this pair of individuals is feeding on a grey-blue sponge similar to Hymenamphiastra cyanocrypta.
The first specimen brought to our attention was snagged with a fish hook from a party boat in southern California. Since then there has been only a handful of sightings.
P. blanca has an undulating mantle edge (not apparent in the specimens here). The dorsum is covered with irregularly distributed tubercles. Like all members of the family the gill is located under the mantle, on the hyponotum. Only the anus can be seen in the location of a typical dorid gill. The rhinophores are typical and lamellate.
Many members of this family are brightly aposomatically colored. A few examples include Phyllidia ocellata, Phyllidia polkadotsa, and Phyllidiopsis fissuratus as seen on Bill Rudman's Sea Slug Forum.
Like other porostome nudibranchs, this species has no radula, to chew on the sponge with. It feeds on sponges by spitting digestive juices onto the sponge, and then slurping up the resulting sponge soup.
Dave Behrens
Gig Harbor, Washington
Sept., 2007

---
Scott Gietler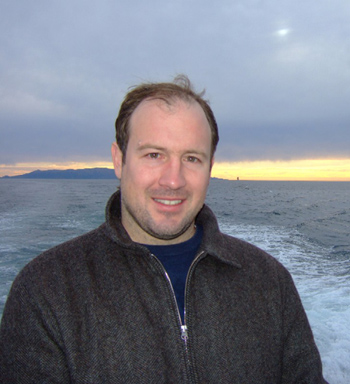 Scott grew up in New York, and only started diving when he moved to California in 2003. His love for marine life quickly led to a camera purchase and enrollment in a marine biology course.

When he is not diving he is either working in the financial field, doing yoga, helping fellow divers with fish id, or maintaining the website www.ladiving.org. He is also an active member of the Los Angeles Photographers Society (LAUPS).

Scott has dove in Thailand, Cozumel, Fiji, and Costa Rica, but Bali and southern California are his favorite dive locations. He has been known to rappel cliffs with his wife Penny to access good dive locations.

Send Scott email at sgietler@yahoo.com
or visit his nudibranch page .
---
From left to right, Terry Gosliner, Angle Valdes, Dave Behrens La Jolla, Calif.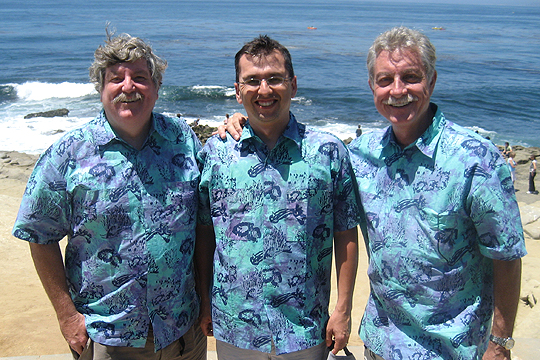 This is our custom designed and custom printed nudibranch shirt. The
shirt has six species of nudibranchs. Has short sleeves with a collar
and two pockets on the front. 100% cotton. Color: Blue & green combined.

Sizes: Small, medium, large and x-large.
Item #Nudishirt $40.00
Send Dave email at dave@seachallengers.com for your order.

---
© The Slug Site, Michael D. Miller 2007. All Rights Reserved.

---