Dirona albolineata

Photo courtesy of Webmaster
Nanaimo, BC, Canada
Aug, 2007
Image taken in still frame mode
Sony HDR-DC-3 HDV Camcorder

Dirona albolineata, MacFarland in Cockerell & Elliot, 1905

One of the largest and most common species in Puget Sound, Washington, and along the California/Oregon coasts, it is also one of the six species on Sea Challengers' new – Nudibranch Aloha Shirt (see the photo below of the grinning, three, co-authors of the soon to come – "Indo-Pacific Nudibranchs and Sea Slugs."
This gorgeous armininid nudibranch displays a wide variation in core color as see on Bill Rudman's The Sea Slug Forum . It carries the "common" name of the white lined Dirona for obvious reasons. But as I have said so many times – there are sooooo many nudibranchs with "common" names starting with "white-lined" be careful not to mix them up. Please use the scientific (Latin/Greek) name when referring to species.
Webmaster Mike has featured this species before, where Sandra Millen explained the variation in color between specimens.
Last night I went down to my boat slip and found 2 giants, almost 4 inches long, frolicking amongst the heavy growth on the floating docks.
Dirona albolineata feeds on articulating bryozoans, such as Bugula. Its geographical range extends from Alaska to San Diego, California. Specimens have also be documented from Japan and the Barent's Sea of Russia.
Dave Behrens
Gig Harbor, Washington
Sept., 2007

WEBMASTER'S NOTES
Alan Grant and myself were up in the Northwest Pacific area the past two weeks diving. Jan Kocian was very gracious in his assistance while visiting the Whidbey Island area. As part of Dave's presentation, a High Definition Flash file featuring Dirona albolineata is being presented for your enjoyment. You need to have a Flash Player program (*.FLV) installed to see it.
Michael Miller
San Diego, Calif
Sept., 2007

---
From left to right, Terry Gosliner, Angle Valdes, Dave Behrens La Jolla, Calif.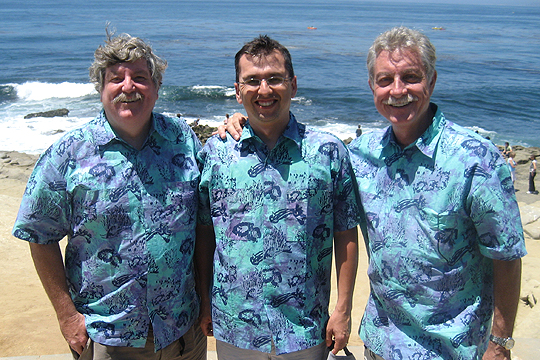 This is our custom designed and custom printed nudibranch shirt. The
shirt has six species of nudibranchs. Has short sleeves with a collar
and two pockets on the front. 100% cotton. Color: Blue & green combined.

Sizes: Small, medium, large and x-large.
Item #Nudishirt $40.00
Send Dave email at dave@seachallengers.com for your order.

---
© The Slug Site, Michael D. Miller 2007. All Rights Reserved.

---