Aeolidiella oliviae
"Barge", Redondo Beach, Calif
Photo courtesy of Jim Lyle


Aeolidiella oliviae, MacFarland, 1966

It sure is nice to receive a spectacular picture as the one above complete with the identification. The life of the Webmaster is made so much easier! The picture correlates directly with the image given in Eastern Pacific Nuidbranchs and the taxon provided by MacFarland(1966). Jim's pic has the added bonus of previewing what is possibly their egg mass. How much better does it get??
Enough rambling from the Webmaster, let's hear the story directly from Jim:
"Diving in Santa Monica Bay as often as I do, you get to know the dive sites very well. On this day, because conditions were marginal, we decided to drop once more on the "barge", located just offshore from Redondo Beach.
The barge lies upside down on a flat sandy bottom in about seventy feet of seawater. The wreck is covered with gorgonia, corinactus anemones, and is home to schools of blacksmith, senoritafish, and the occasional sealion. It is also a good place to see nudibranchs – Hermissenda crassicornis, Flabellina iodinea, and other common species.
I had borrowed a Zuiko 50mm lens for my camera and was busy shooting the small stuff, when I turned over a piece of rusty metal and saw two tiny nudibranchs that looked "different;" so I took their picture. When I got home, I examined the image very carefully and discovered that they were a new species – at least to me – Aeolidiella oliviae!
I sent a copy to Mike for verification and he thought it would be suitable for the Opisthobranch of the Week."
Image taken with a Olympus E-330 in an Ikelite housing & Zuiko 50mm lens, Dual Ike DS-125 strobes. F/10, 1/100sec., ISO-200.
Thanks Jim for sharing your image with the rest of the branching community! Always have your camera ready folks, you never know what our sea slug friends are going to show us!
References:
Eastern Pacific Nudibranchs, Behrens and Hermosillo, Sea Challengers, Monterey, CA 93940

MacFarland, F.M. 1966. Studies of opisthobranchiate mollusks of the Pacific coast of North America. Memoirs of the California Academy of Sciences 6:1-546, pls. 1-72.

Michael Miller
San Diego, Calif
July, 2007

---
Jim Lyle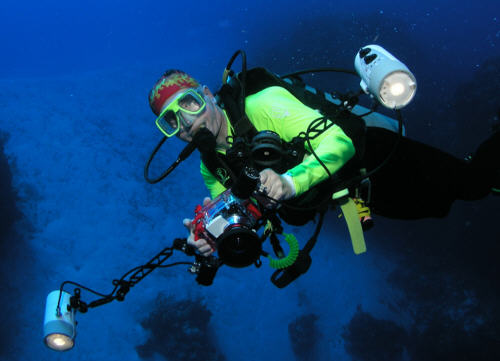 Jim Lyle is a retired university chemistry professor, now spending as much time as possible underwater. He lives in Hermosa Beach, California and dives nearly every weekend, frequently in search of opisthobranchs.

He recently made the move to digital dslr - Olympus E-330, in an Ikelite housing, with dual Ikelite DS-125 strobes. A member of the Los Angeles Underwater Photography Society, Jim's images have won prizes in both local and international competitions.

My web page .
---
© The Slug Site, Michael D. Miller 2007. All Rights Reserved.

---